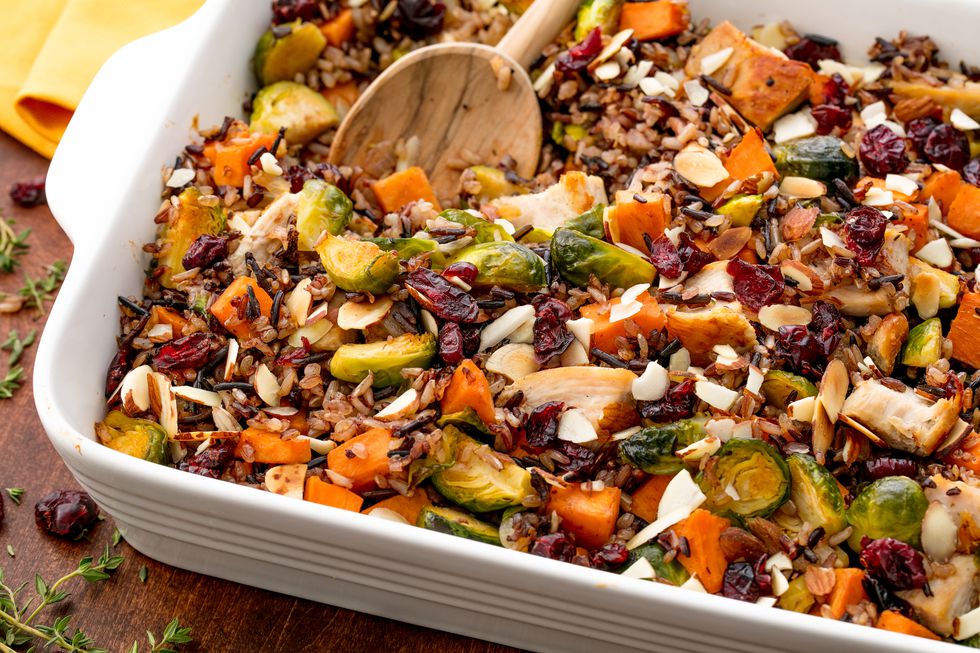 Harvest Chicken Casserole
A satisfying casserole with all of your fall favorites.
Prep Time
    •    Prep time: 20 minutes
    •    Cook time: 40 minutes
    •    Yield: Serves 6-8

Ingredients
    •   2 tbsp. extra-virgin olive oil, plus more for baking dish
    •   2 lb. boneless skinless chicken breasts
    •   Kosher salt
    •   Freshly ground black pepper
    •   1/2 onion, chopped
    •   2 medium sweet potatoes, peeled and cut into small cubes
    •   1 lb. brussels sprouts, trimmed and quartered
    •   1 tsp. dried thyme
    •   1/2 tsp. paprika
    •   1/4 c. Swanson Chicken Broth
    •   6 c. cooked wild rice
    •   1/2 c. dried cranberries
    •   1/2 c. sliced almonds
Method
Preheat oven to 350o and grease a 9"-x-13" baking dish with oil. In a large, deep skillet over medium-high heat, heat 1 tablespoon oil. Season chicken with salt and pepper. Add chicken to skillet and cook until golden and cooked through, 8 minutes per side. Let rest 10 minutes, then cut into 1" pieces.
Heat remaining tablespoon oil over medium heat. Add onion, sweet potatoes, and Brussels sprouts and season with thyme, paprika, salt, and pepper. Cook until softened, 5 minutes. Add broth, bring to a simmer, and cook, covered, 5 minutes.
Stir in cooked rice, chicken, and cranberries. Transfer mixture to baking dish, top with almonds, and bake 20 minutes.
Let cool 5 minutes before serving.


This great family recipe is thanks to Delish Recipes at https://www.delish.com/cooking/recipe-ideas/recipes/a55760/healthy-chicken-casserole-recipe/