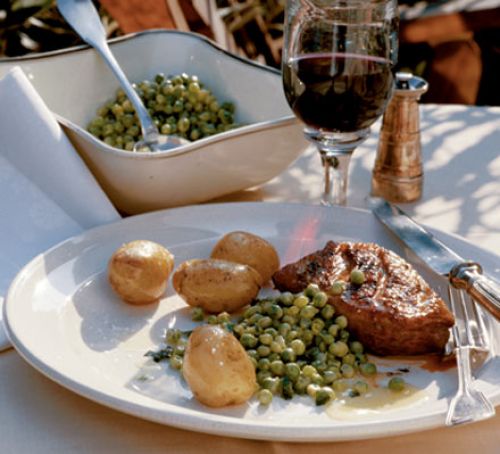 Grilled Duck Breast with Minted Peas
A quick and utterly delicious version of a classic partnership, grilled duck breast with minted peas.
Prep Time
    •    Prep time: 5 minutes
    •    Cook time: 25-35 minutes
    •    Yield: Serves 2
Ingredients
    •    250g shelled garden pea, about 800g/1lb 12oz in their pods
    •    about 15 mint leaves
    •    50g unsalted butter, softened
    •    2 ducks breasts, ideally Barbary or Gressingham
    •    dried herbes de Provence or dried thyme, or oregano
    •    buttered new potatoes, to serve
Method
Shell the peas and set aside. Chop the mint and blend into the butter. Pat the duck dry with kitchen paper and place on the oiled rack of a grill pan (or place a small cake rack in a roasting pan). Use a long sharp knife to score the skin of the duck in a diamond lattice pattern. Sprinkle the skin with salt and dried herbs. (If you wish, the duck, peas and mint butter can now be covered and set aside in a cool place for a couple of hours until ready to cook).
Preheat the grill to very hot. Grill the duck breasts skin-side up for 10 minutes (watch carefully as you do this because the hot fat can splatter) until the skin is browning and has yielded most of its fat – carefully pour this off and reserve for roasting potatoes. Turn the duck over and grill on the flesh side for 5-10 minutes, depending on how rare you like the meat. Turn off the heat and allow the duck to rest while you prepare the peas.
Cook the peas in boiling salted water for 3-5 minutes or until the peas are just tender and still bright green. Drain in a colander and return to the hot pan with the mint butter. Toss the peas until evenly coated with the butter.
Serve the duck breasts whole or sliced with the minted peas, accompanied by buttered new potatoes.


This great family recipe is thanks to BBC Goodfood Recipes at https://www.bbcgoodfood.com/recipes/1841/grilled-duck-breast-with-minted-peas