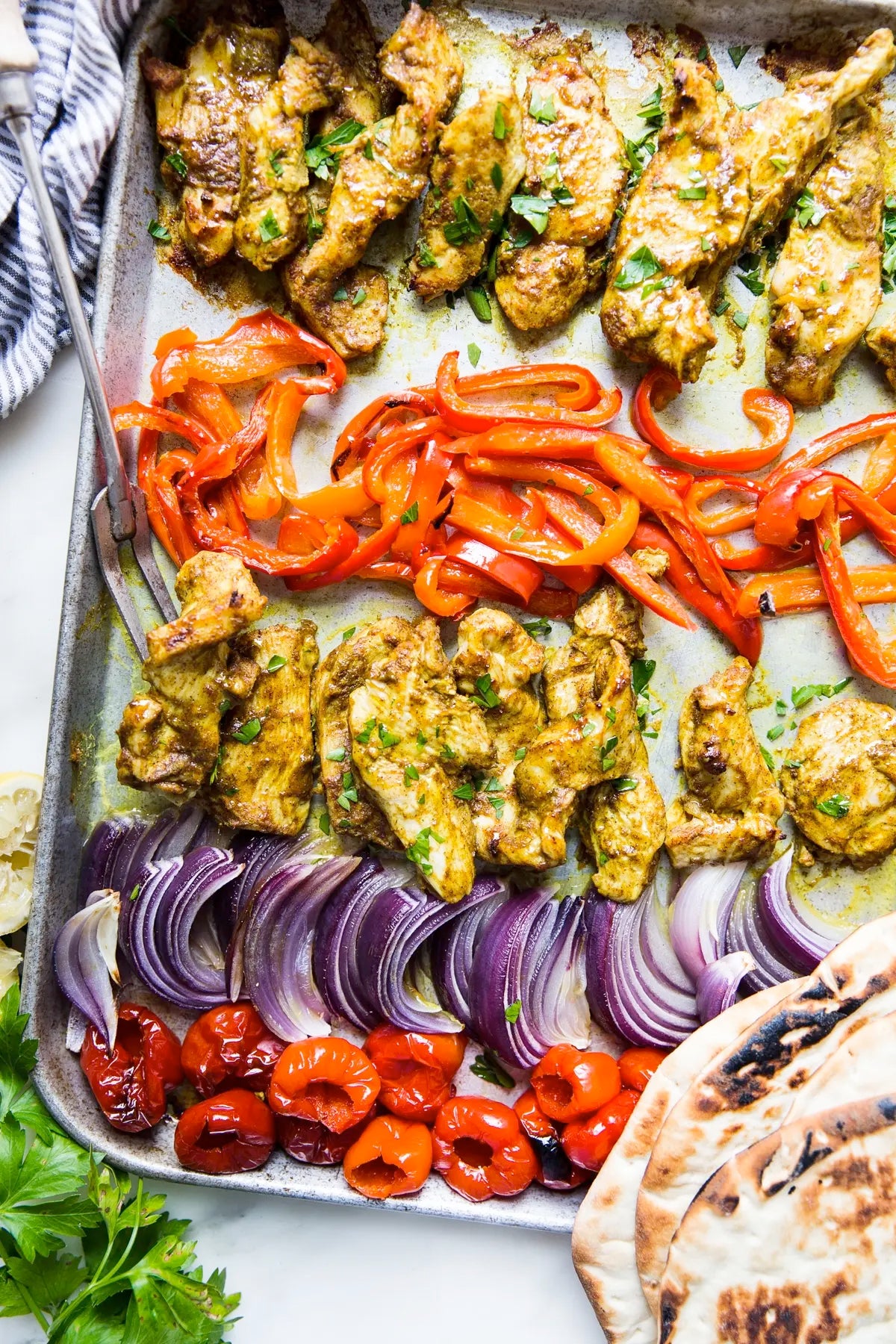 Grilled Chicken Shawarma Kebab
You know what we've been loving lately? Easy dinners. More specifically, easy dinners that everybody loves. If you don't already know, there's nothing as simple as a good sheet pan dinner and this Chicken Shawarma Sheet Pan dinner is no exception. It comes together in just a few easy steps and is rich in warm, exotic flavors that will have you coming back for more.
This recipe is everything you love about Chicken Shawarma all on one sheet pan and ready for your oven in just a few simple steps!

Prep Time
    •    Prep time: 20 minutes
    •    Cook time: 25 minutes
    •    Yield: Serves 6

Ingredients
    •    2 tsps salt
    •    2 tsps cumin
    •    2 tsps tumeric
    •    2 tsps cinnamon
    •    2 tsps cardamom
    •    1 cup plain greek yogurt
    •    2 tbsps extra virgin olive oil
    •    1/2 cup peppadew peppers
    •    1 purple onion, cut into 1/2 inch thin slices
    •    2 large red bell peppers, cut into 1/2 inch thin strips
    •    3 large boneless skinless chicken breast, sliced into 1 inch strips

For Tahini Sauce:
    •    1/2 tsp salt
    •    1 cup tahini
    •    2/3 cup water
    •    1/2 cup lemon juice
    •    4 garlic cloves, minced
    •    1/3 cup extra virgin olive oil

For Serving:
    •    4 - 8 pita bread
    •    1 tomato, sliced
    •    cucumber diced

Method
Preheat the oven to 350°F.
In a large bowl combine the yogurt with cumin, cardamom, turmeric, cinnamon and salt.
Add the chicken to the marinade and toss until fully coated. Set aside.
Spread 1 tablespoons of olive oil onto a large rimmed baking sheet. Arrange chicken, onions, bell peppers and peppadews on the baking sheet and drizzle with remaining olive oil.
Place the baking sheet on the center rack and bake for 20 minutes until chicken is cooked through and onions and peppers are tender. If you would like the meat and veggies to have a bit of char, broil for 3 minutes or until desired caramelization is achieved.
Prepare the tahini sauce by placing all ingredients in a medium sized bowl and whisking with a fork until smooth. **It will look like it is seperating for a few minutes before it all comes together, this is normal!
Serve chicken and roasted veggies in pita bread topped with a generous amount of tahini sauce, cucumber and tomatoes. Enjoy!
This great family recipe is thanks to The Modern Proper at https://themodernproper.com/chicken-shawarma-sheet-pan-dinner