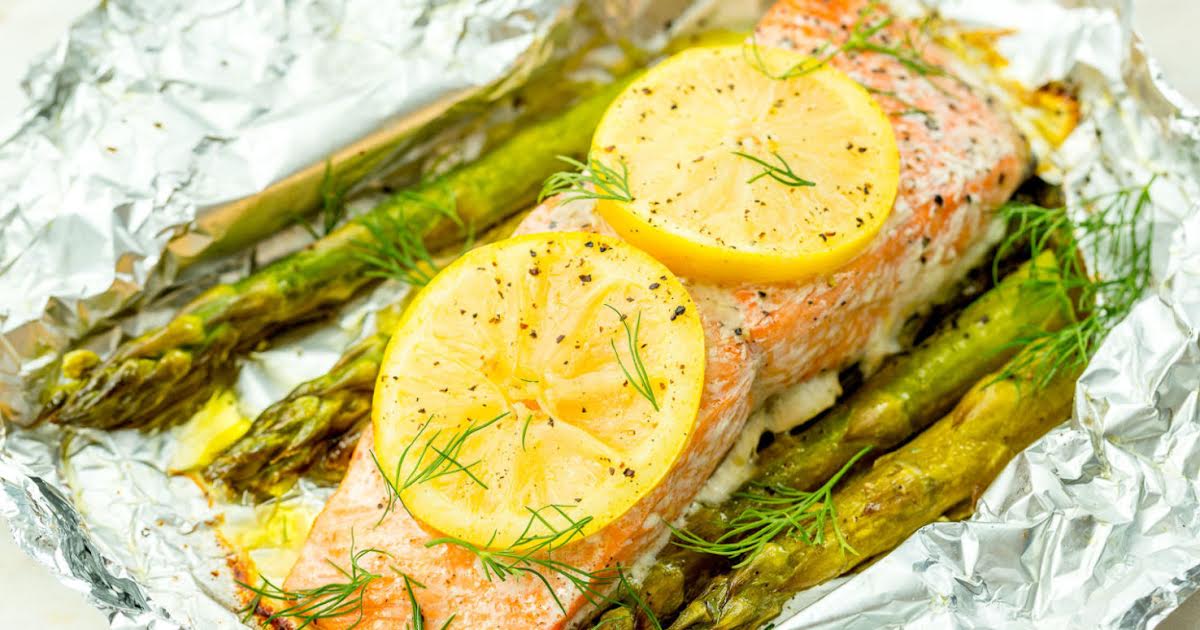 Foil Pack Grilled Salmon with Lemony Asparagus
Grilling fish can be a totally daunting process. Worrying about cooking it correctly and not tearing apart the delicate fillets can bring unnecessary stress to your cookout. Let this recipe and a little bit of tin foil save you from that aggravation.
Making foil packs, not only keeps your fish from sticking to your grill grates but it also creates a mini oven, where all the added ingredients cook and combine to make a flavor bomb. These packs combine salmon, asparagus, butter and lemon to create a light and easy meal that is perfect for any cookout.
You could serve these right out of the foil or you could use a bit more foil and make some campfire potatoes or make some simple grilled corn.
Prep Time
    •    Prep time: 10 minutes
    •    Cook time: 10 minutes
    •    Yield: Serves 4

Ingredients
    •    kosher salt
    •    2 lemons, sliced
    •    4 tbsps butter divided
    •    Torn fresh dill, for garnish
    •    freshly ground black pepper
    •    4 x 6 oz skin-on salmon fillets
    •    20 asparagus spears, trimmed

Method
Lay two pieces of foil on a flat surface. Place five spears of asparagus on foil and top with a fillet of salmon, 1 tablespoon butter, and two slices lemon. Loosely wrap, then repeat with remaining ingredients until you have four packets total.
Heat grill on high. Add foil packets to grill and grill until salmon is cooked through and asparagus is tender, about 10 minutes.
Garnish with dill and serve.
This great family recipe is thanks to Delish at https://www.delish.com/cooking/recipe-ideas/recipes/a47373/foil-pack-grilled-salmon-with-lemony-asparagus-recipe/