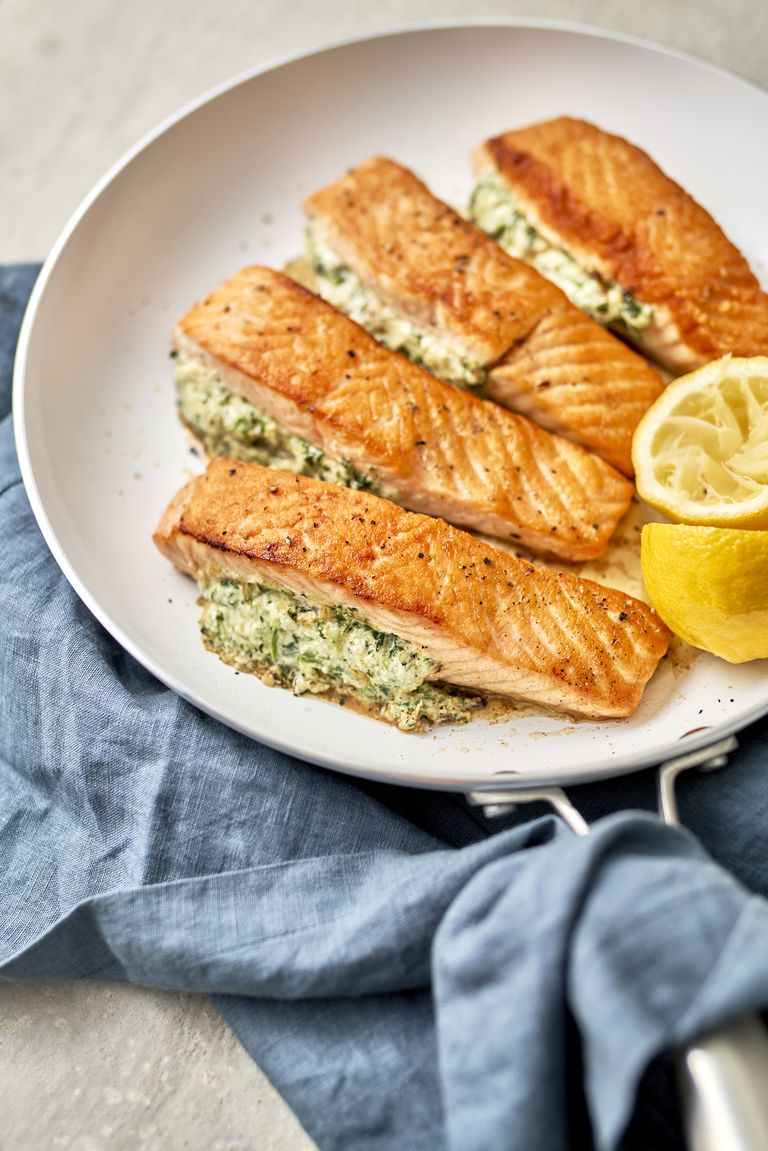 Creamed Spinach Stuffed Salmon
If you're skeptical about the combination of cheese and salmon, don't be. We promise you, it's AMAZING. But if you're not so into the mozz, we have plenty of other healthy salmon ideas just for you.
Prep Time
    •    Prep time: 10 minutes
    •    Cook time: 20 minutes
    •    Yield: Serves 4

Ingredients
    •    Kosher salt
    •    2 tbsps butter
    •    Juice of 1/2 lemon
    •    1/4 tsp garlic powder
    •    4 x 6 oz salmon fillets
    •    Pinch of red pepper flakes
    •    2 tbsps extra-virgin olive oil
    •    Freshly ground black pepper
    •    1/2 cup shredded mozzarella
    •    1/2 cup frozen spinach, defrosted
    •    1/2 (8 oz) block cream cheese, softened

Method
Season salmon all over with salt and pepper. In a large bowl, mix together cream cheese, mozzarella, spinach, garlic powder, and red pepper flakes.
Using a paring knife, slice a slit in each salmon to create a pocket. Stuff pockets with cream cheese mixture.
In a large skillet over medium heat, heat oil. Add salmon skin side down and cook until seared, about 6 minutes, then flip salmon. Add butter and squeeze lemon juice all over. Cook until skin is crispy, another 6 minutes. Serve warm.
This great family recipe is thanks to Delish at https://www.delish.com/cooking/recipe-ideas/a22127962/creamed-spinach-stuffed-salmon-recipe/