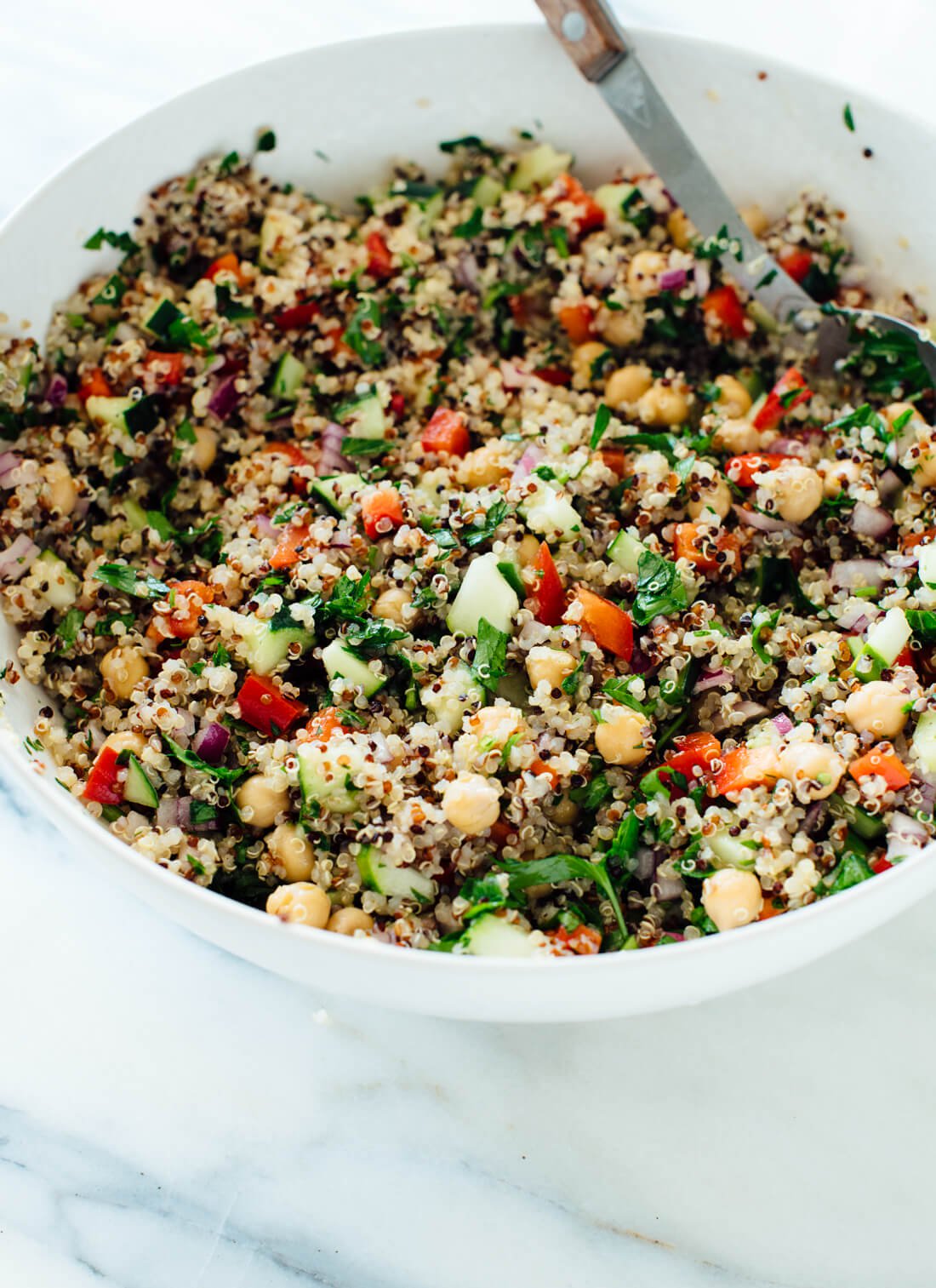 Introducing my favorite quinoa salad! I've published more than a few quinoa salads over the years and I genuinely love all of them, but this recipe is officially my favorite.
This quinoa salad is refreshing, crisp and delicious. It's made simply with fresh cucumber, red bell pepper, red onion, chickpeas, fresh parsley and a garlicky olive oil and lemon dressing. The salad sort of reminds me of taboulleh, an herbed Lebanese salad with tomatoes and bulgur.
This quinoa salad recipe is also very easy to toss together, especially if you use leftover quinoa (see recipe note). This salad packs great for lunch, picnics, road trips and plane rides. Bring this allergy-friendly salad along to your next potluck—it's vegan/dairy free, gluten free, and nut free, for all to enjoy. It doesn't taste "basic," but it has a lot of merits that make it a staple recipe in my kitchen. I hope it becomes your go-to quinoa salad recipe, too!
This quinoa salad recipe is the best! Everyone loves this healthy quinoa salad made with quinoa, chickpeas, red bell pepper, cucumber, parsley and lemon. It's vegan and gluten free, too! Recipe yields 4 medium salads or 8 side salads.
Prep Time
    •    Prep time: 20 minutes
    •    Cook time: 20 minutes
    •    Yield: Serves 4

Ingredients
    •    1 cup uncooked quinoa, rinsed in a fine-mesh colander
    •    2 cups water
    •    1 can (15 ounces) chickpeas, rinsed and drained, or 1 ½ cups cooked chickpeas
    •    1 medium cucumber, seeded and chopped
    •    1 medium red bell pepper, chopped
    •    ¾ cup chopped red onion (from 1 small red onion)
    •    1 cup finely chopped flat-leaf parsley (from 1 large bunch)
    •    ¼ cup olive oil
    •    ¼ cup lemon juice (from 2 to 3 lemons)
    •    1 tablespoon red wine vinegar
    •    2 cloves garlic, pressed or minced
    •    ½ teaspoon fine sea salt
    •    Freshly ground black pepper, to taste
Method
To cook the quinoa: Combine the rinsed quinoa and the water in a medium saucepan. Bring the mixture to a boil over medium-high heat, then decrease the heat to maintain a gentle simmer. Cook until the quinoa has absorbed all of the water, about 15 minutes, reducing heat as time goes on to maintain a gentle simmer. Remove from heat, cover, and let the quinoa rest for 5 minutes, to give it time to fluff up.
In a large serving bowl, combine the chickpeas, cucumber, bell pepper, onion and parsley. Set aside.
In a small bowl, combine the olive oil, lemon juice, vinegar, garlic and salt. Whisk until blended, then set aside.
Once the quinoa is mostly cool, add it to the serving bowl, and drizzle the dressing on top. Toss until the mixture is thoroughly combined. Season with black pepper, to taste, and add an extra pinch of salt if necessary. For best flavor, let the salad rest for 5 to 10 minutes before serving.
This salad keeps well in the refrigerator, covered, for about 4 days. Serve chilled or at room temperature.
NOTES: If you happen to have 3 cups of leftover cooked quinoa, you can use it instead of cooking more. This salad is awesome as written. You can serve it on fresh greens with an extra drizzle of olive oil and squeeze of lemon juice for dressing. Feel free to top it with crumbled feta cheese or a dollop of cashew sour cream


This great family recipe is thanks to Cookie and Kate at https://cookieandkate.com/2017/best-quinoa-salad-recipe/?utm_source=Cookie+and+Kate+Newsletter&utm_campaign=bbdfccb43a-Mailchimp-weekly&utm_medium=email&utm_term=0_dc2361842c-bbdfccb43a-243625305