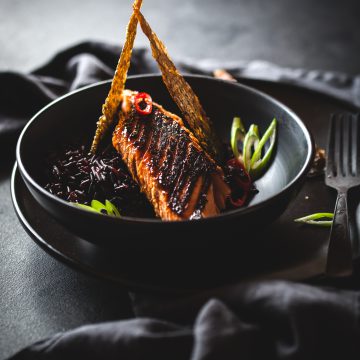 This Miso Glazed Huon Salmon is exploding with exotic flavours!
Combined with crispy salmon skin and forbidden rice, this dish will be a dinner party winner.
Prep Time

    •    Prep time: 30 minutes
    •    Cook time: 45 minutes
    •    Yield: Serves 4
Ingredients
    •    4 x 140g Huon Salmon portions, skin on
    •    3 tsp Minced garlic
    •    2 tsp Freshly grated ginger
    •    5 tbsp Honey
    •    1 tsp Miso paste
    •    4 tbsp Soy sauce
Method
To make the Skin Shards:
Pre-heat oven to 140°C.
Very carefully remove the skin from each fillet.
Scrape as much of the fatty flesh from the back of the skin as possible without damaging the skin.
Line a baking tray with baking paper and lay the skin pieces out, skin side up.
Cover with another sheet of baking paper and then place a baking tray on too.
Cook for 30 minutes and then check.
Keep cooking and checking every 10 minutes until skin is dry and crispy.
Remove from oven and let cool.
Miso Glazed Salmon:
Combine garlic, ginger, honey, miso paste and soy sauce in a bowl.
Place salmon fillets into a large zip lock bag and then pour marinade over.
Marinate for a minimum of 1 hour, but preferably overnight, giving you time to make your skin shards.
Recipe by the talented Huon Valley local Naomi Sherman from Bluerust Images.
Pre-heat oven to 180°C
Line a baking tray with baking paper
Heat a small amount of oil in a pan and sear each salmon fillet to form a blackened crust.
Place fillets onto baking tray, seared side up and bake for about 15 minutes, basting once or twice in between.
Serve with forbidden (black) rice, cooked as per package directions.


This great family recipe is thanks to Huon Aqua at https://www.huonaqua.com.au/recipes/miso-glazed-huon-salmon-forbidden-rice-skin-shards/