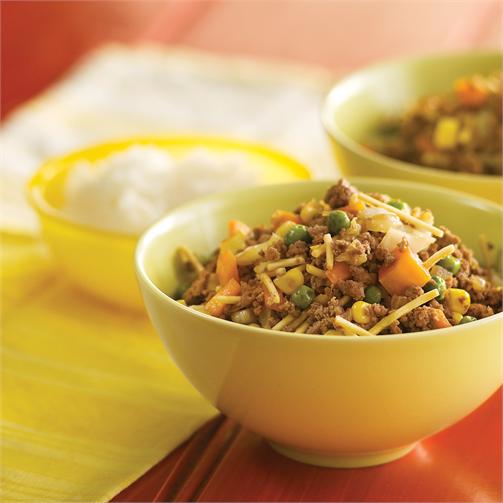 Easy Savoury Mince
Ingredience (serves 4)

500 g beef mince
2 tsp oil
1 small onion, chopped
1 medium carrot, diced
1 small wedge cabbage, chopped
½ cup corn kernels
½ cup frozen peas
1 tbsp soy sauce
2 tbsp oyster sauce
¾ cup water or beef stock
2 tsp cornflour
100 g pkt pre-cooked crunchy noodles (optional)
steamed rice to serve
Cooking Method
Place beef mince in a bowl and mix in a little oil. Heat a large frypan or a wok, ensure it is hot. Crumble in half of the mince. Cook stirring often until mince is being to brown. Remove the first batch, reheat the frypan and cook the remaining mince and then remove.
Reheat the frypan, add the oil, heat oil and add the onion and carrot. Cook stirring once or twice for 1 minute. Add the cabbage, cook for a further minute.
Add the corn and peas to the frypan. Return the mince to the frypan, cook for 1 minute. Push the mince mixture out to the side. Pour in the combined soy sauce, oyster sauce, water and cornflour, stir as it comes to the boil. Stir to mix the sauce with the mince mixture. Add the noodles if using, stir to combine. Spoon the mince into a serving bowl. Serve with steamed rice.
Thanks to Beef & Lamb Australia for this recipe http://www.beefandlamb.com.au/Recipes/All_recipes/Detail/Unbelievably-easy-savoury-mince