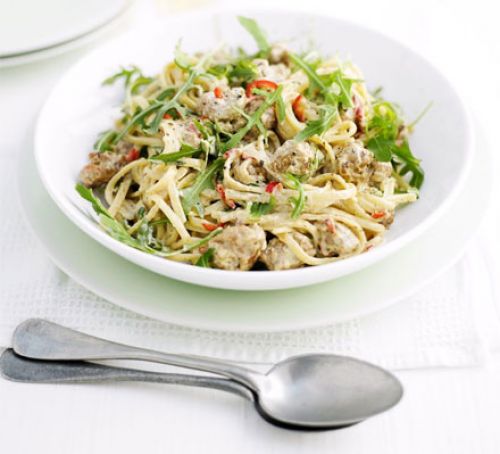 Creamy Sausage & Rocket Linguine
Comfort food with a kick, this creamy pasta has just five ingredients.
Prep Time
    •    Prep time: 10 minutes
    •    Cook time: 10 minutes
    •    Yield: Serves 4
Ingredients
    •    100g rocket
    •    400g linguine
    •    8 pork sausages
    •    150ml single cream
    •    PLUS 2 tsps olive oil
    •    1-2 red chillies, seeds in or out (depending on how hot you like it), finely chopped
Method
Squeeze the sausagemeat out of the skins, breaking into grape-size chunks. Heat the oil in a frying pan. Fry the chunks for about 8 mins until crisp and golden.
Meanwhile, cook the pasta and chop most of the rocket. Add the chilli to the sausages, fry for 30 secs, then tip in the cream and chopped rocket. Season and heat until the rocket has just wilted.
Drain the pasta, reserving some of the cooking liquid, then mix the pasta through the sauce with a splash of cooking water. Top with remaining rocket.


This great family recipe is thanks to BBC Goodfood Recipes at https://www.bbcgoodfood.com/recipes/449618/creamy-sausage-and-rocket-linguine