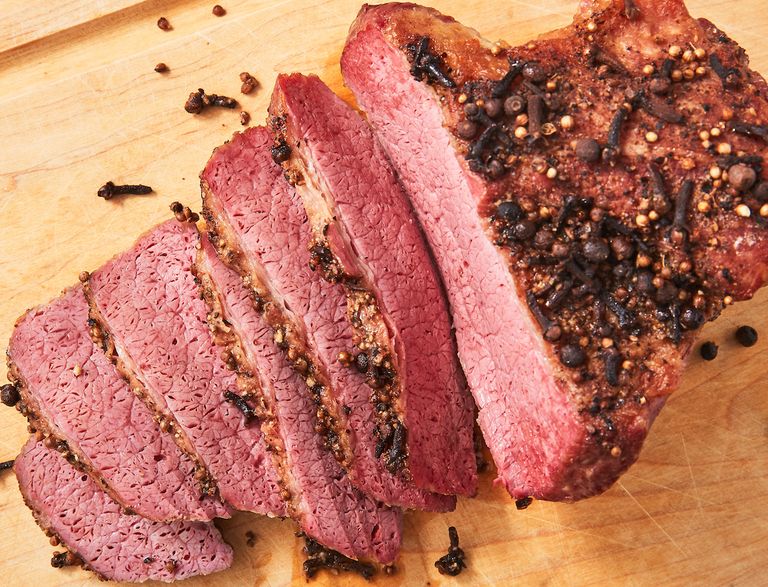 It's not St. Paddy's Day without corned beef! This roasted recipe is one of our favorites: it's super moist and tender, and with a unique spice blend you won't find in a little plastic baggie. With whole cloves, allspice, and coriander, your house will smell AMAZING while this is baking. That said, if your beef came with a spice packet and you're a sucker for tradition, feel free to use that instead of our spice blend! We won't be offended, promise.
Prep Time
    •    Prep time: 5 minutes
    •    Cook time: 3 hours & 15 minutes
    •    Yield: Serves 8
Ingredients
    •    1/2 tsp whole cloves
    •    1/4 cup brown sugar
    •    1/2 tsp coriander seeds
    •    3 lb corned beef brisket
    •    1/2 tsp whole allspice berries
    •    2 tsps freshly ground black pepper
Method
Preheat oven to 325°. Trim excess fat from beef and rinse under cold water. Pat dry and place fat side up in large roasting pan fitted with a roasting rack.
In a medium bowl, stir together brown sugar, black pepper, allspice, cloves and coriander. Spread spice mix evenly over top of brisket. Add 6 cups water to roasting pan and cover brisket with aluminum foil. Roast for 2 hours, then remove foil and roast until tender, 1 hour more.
Let brisket rest for 15 minutes before slicing.


This great family recipe is thanks to delish Recipes at https://www.delish.com/cooking/recipe-ideas/a26413859/corned-beef-brisket-recipe/