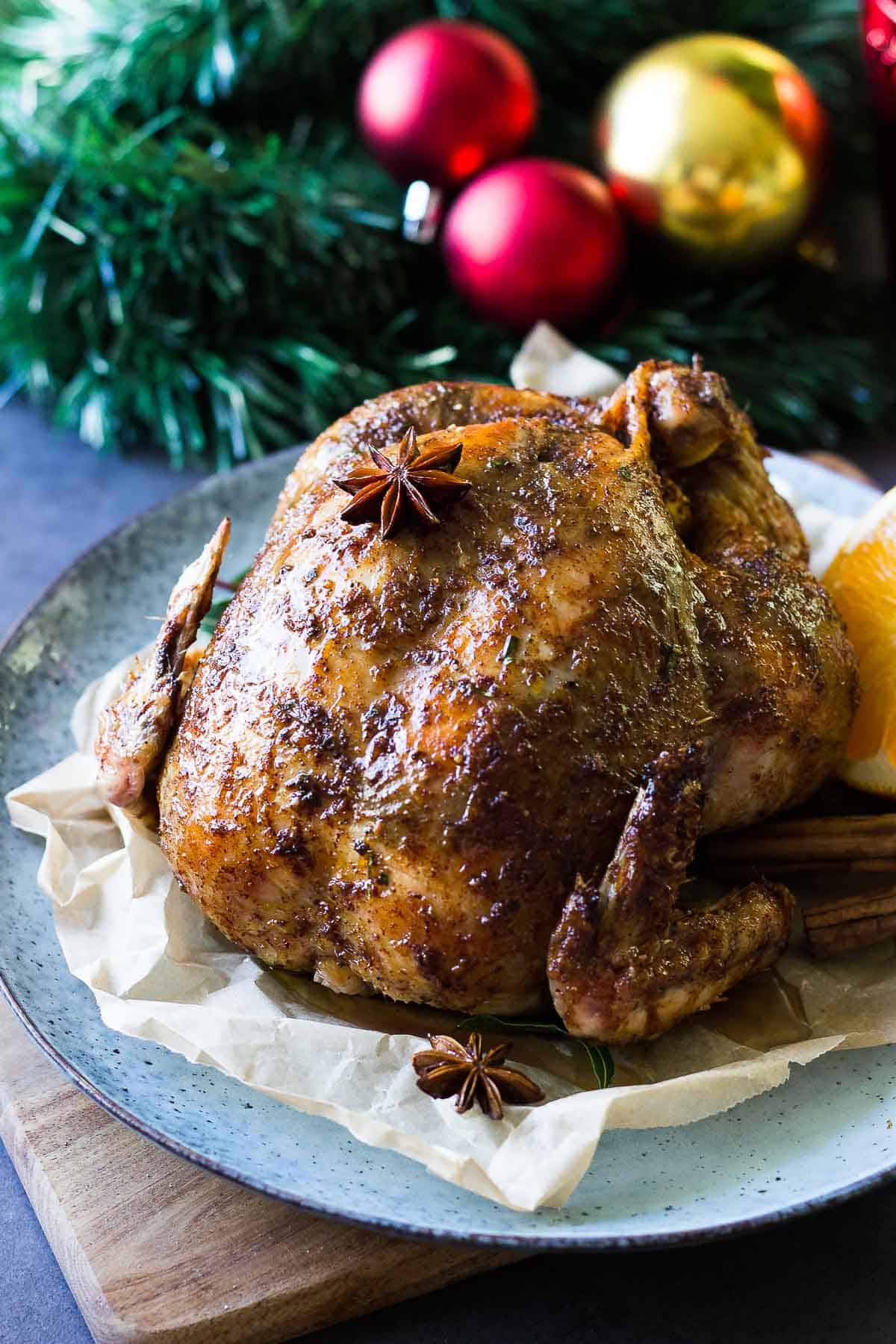 This Christmas Roast Chicken is seasoned with star anise, cloves, cinnamon, orange and maple syrup! Great to make if you're making a Christmas meal for a smaller gathering!
Prep Time
    •    Prep time: 10 minutes
    •    Cook time: 10 minutes
    •    Yield: Serves 4

Ingredients
    •    1 tsp salt
    •    pinch of pepper
    •    4 tsps maple syrup
    •    1 tsp ground cloves
    •    zest from one orange
    •    1 tsp ground star anise
    •    1 or 2kg whole chicken
    •    1 tsp of ground cinnamon
    •    50g butter, room temperature
    •    0.5 tsp bay leaf, finely chopped
    •    half an orange cut in two (use the zested one)
    •    orange juice from 1/4 orange use the zested one

Method
Preheat the oven to 200°C fan / 220°C / 428°F.

Mix the butter with the spices, salt, orange zest, orange juice and stir until combined.

Rub 2/3 of the butter mix (RESERVE 1/3 of the butter!) under the skin of the chicken and a little over the chicken and inside the chicken.

Place the chicken in a oven proof dish. Rub salt into the cavity and place the 1-2 orange halves + 2 bay leafs inside the chicken.

Bake in the oven for 20 minutes.

Whilst the chicken is in the oven, melt the rest of the butter in a saucepan and add the maple syrup. Set aside.

Remove the chicken from the oven and turn it down to 175°C.

Brush the melted butter/maple syrup mixture over the chicken and place the chicken in the oven again and bake for an additional 40-50 minutes, or until the juices run clear.

Once cooked, remove from the oven and cover with foil. Leave to rest for 10-15 minutes before serving.
NOTES:
    •    For an extra juicy chicken, turn it up side down whilst resting. This may flatten the curvature of the chicken but it will still look good!)
    •    If you want want a gravy you can scrape all the juices from the baking tray and all the juices coming from the bird whilst resting and pour it into a sauce pan. Dissolve a tbsp of cornflour into cold water. Bring the meat juices to a boil and stir the corn flour into the sauce a little at a time whilst stirring until you've reached desired consistency.
This great family recipe is thanks to Nutritionist Meets Chef at https://nutritionistmeetschef.com/christmas-spiced-roast-chicken/