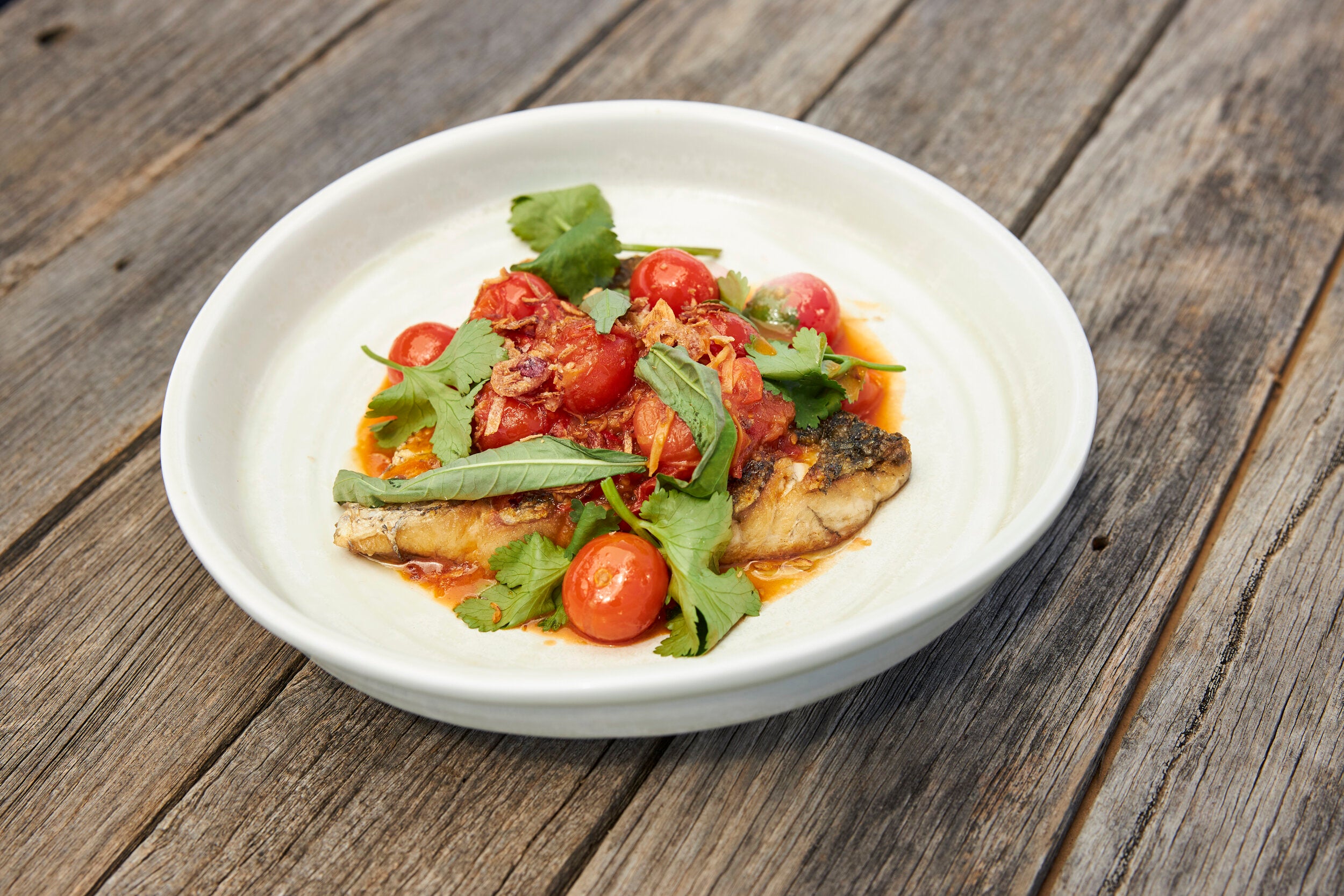 Chilli Cherry Tomato Fried Fish
Prep Time
    •    Prep and cook time: 35 minutes
    •    Yield: Serves 2

Ingredients
    •    1 lime
    •    fried shallots
    •    extra olive oil
    •    1 tbsp fish sauce
    •    1 tbsp brown sugar
    •    1 shallot, sliced thinly
    •    steam rice for serving
    •    2 garlic cloves sliced thinly
    •    1/2 bunch coriander, picked
    •    2 pieces of barramundi fillets
    •    2 punnets of cherry tomatoes
    •    1/2 bunch vietnamese mint, picked
    •    1 thumb sized piece of ginger, cut into match sticks

Method
In a saucepan over a medium high heat add a drizzle of olive oil. Once hot add the shallots, ginger garlic and chilli, cook until it lightly browns. Add the cherry tomatoes and brown sugar, cook until they begin to pop and release their liquid. Add ½ cup of water and turn the heat down to a gently simmer.
In a frypan over a medium high heat add a cm layer of oil. Once hot add the fish skin side down into the pan. Cook until the fish is golden, crispy and changed colour halfway up the fish, flip and cook until the fish is just done.
Add the fish sauce to the tomato sauce and cook for a further minute. Then remove from the heat and add the juice of half a lime.
Serve the fish topped with the tomato sauce, the herbs, fried shallots and the extra lime. Finish with a side of steamed rice.
This great family recipe is thanks to FARM TO FORK at https://www.farmtofork.com.au/recipe-index/chilli-cherry-tomato-fried-fish