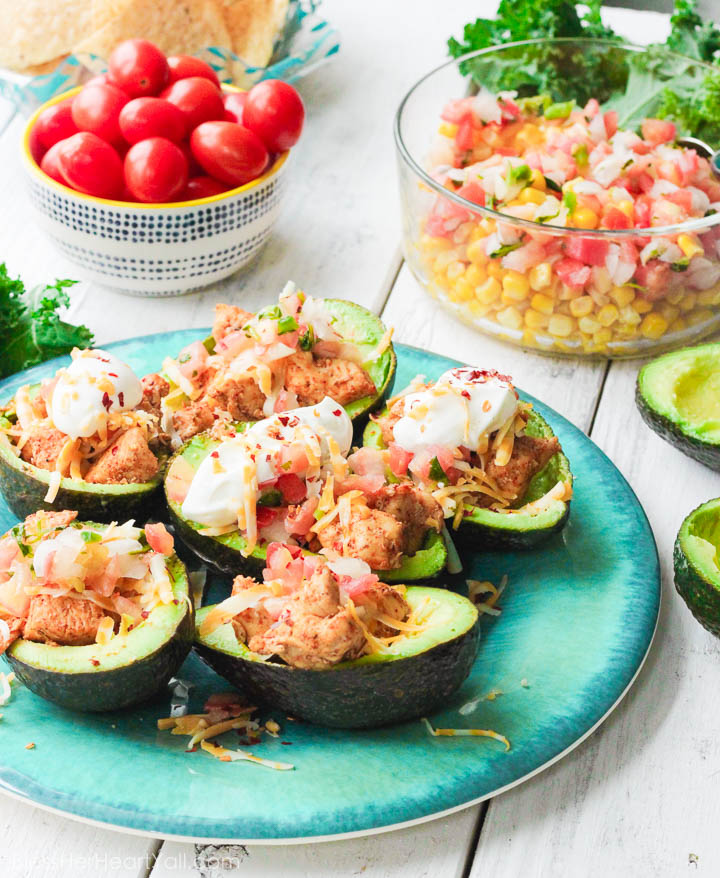 Chicken Taco Avocado Boats
Chicken taco avocado boats are a quick and tasty healthy alternative for your party or appetizer table. It's all the flavor of tacos with all the healthy benefits of avocados!

Prep Time
    •    Prep time: 5 minutes
    •    Cook time: 15 minutes
    •    Yield: Serves 8
Ingredients
    •  4 chicken breasts cubed
    •  2 TBSP olive oil
    •  1/2 TBSP BHHY's taco seasoning
    •  1/2 TBSP lime juice
    •  4 Hass Avocados halved with pits taken out
    •  1 medium tomato diced
    •  1 medium yellow onion diced
    •  shredded cheese sour cream, and red pepper flakes for garnish
Method
In a large skillet over medium heat, heat the oil and then cook the chicken until golden brown and cooked thoroughly. The last 2 minutes of cooking the chicken, lower the temperature to medium-low and sprinkle the lime juice and taco seasoning on the chicken.

While the chicken is cooking, scoop out about 1/2 of the flesh inside each avocado half using a spoon. (I use these "extras" for guacamole!)

Once the chicken is finished cooking, place the chicken meat inside the avocado boat, quickly sprinkling with cheese to allow it to melt. Sprinkle with tomato, onion, and red pepper flakes, and dollop with sour cream. Enjoy it messy!


This great family recipe is thanks to Yummly at https://www.yummly.com/recipe/Chicken-Taco-Avocado-Boats-1474647?prm-v1&utm_medium=email&utm_source=seasonal&utm_campaign=Chicken_Under_20