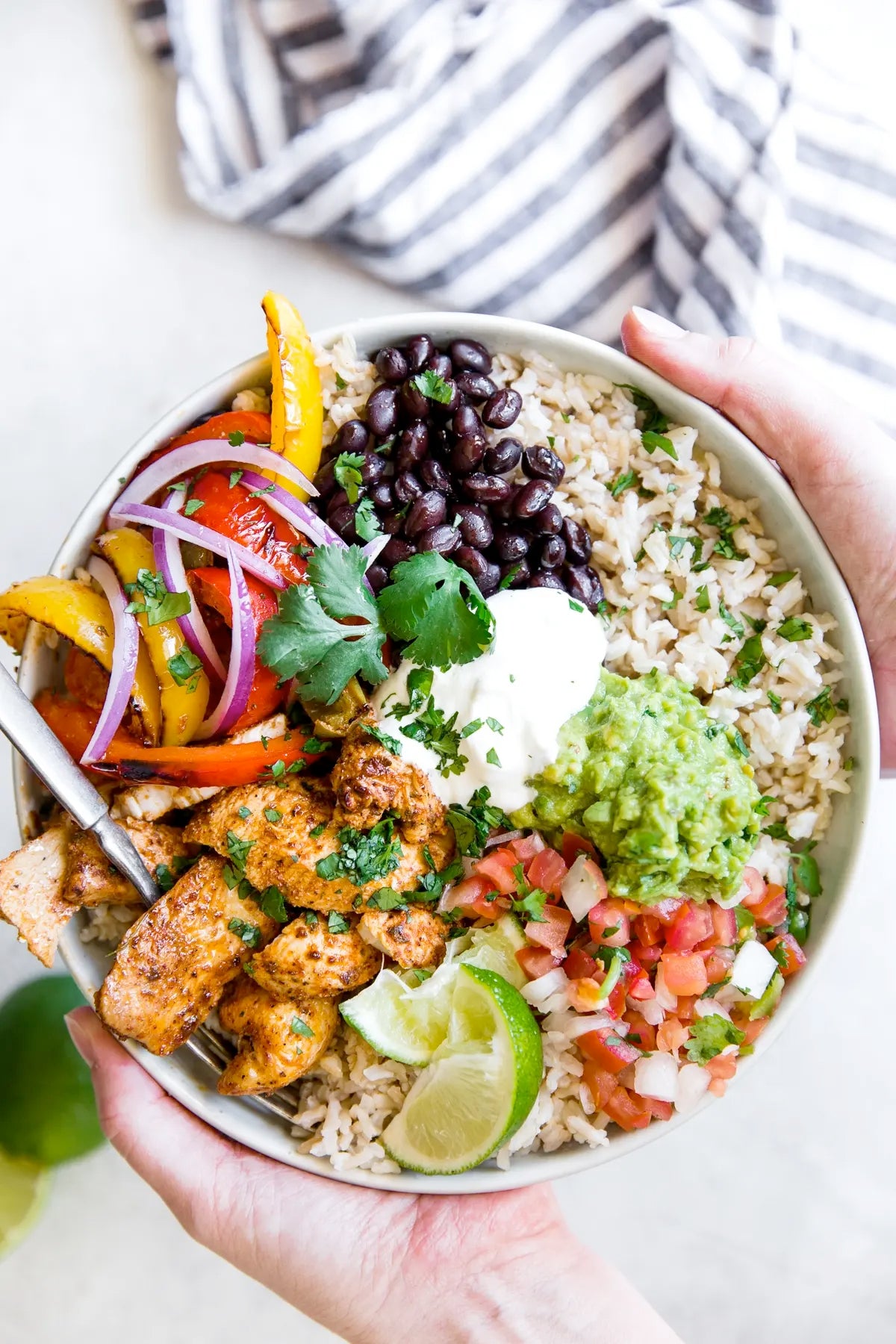 Chicken Fajita Burrito Bowl
Taking cues from Chipotle's burrito bowl, I like to pile everything up high, and (also just like Chipotle) I prefer to prep the ingredients ahead of time, so that when dinner time comes, everyone can just assemble and EAT!
The taco-spiced chicken breast can be easily made ahead and is an incredibly easy recipe. After that, you just need to prep all your other ingredients and store them in small containers, so they're ready as can be.
Prep Time
    •    Prep time: 20 minutes
    •    Cook time: 15 minutes
    •    Yield: Serves 6

Ingredients
    •    Cilantro
    •    sour cream
    •    pico de gallo
    •    1 batch guacamole
    •    2 cups brown rice, cooked
    •    1 x 13.5 oz can black beans

Method
In a large bowl make a marinade using the taco seasoning, olive oil and lime juice. Toss chicken and vegetables in marinade and allow to marinate, covered for 1 hour.
Preheat oven to 375°F.
Spread ingredients across pan and allow to bake for 15 minutes, or until meat is cooked through. If you want to add some char to meat and veggies, broil for another 3 minutes.
In a bowl spread out rice and top with all desired fixings. Enjoy!
TIPS: Store all ingredients separately and build for meal prep. If making for lunch store the guacamole, sour cream, salsa and cilantro in a separate container than the rice, chicken and beans. Heat up the bowl and top with fixings.
This great family recipe is thanks to The Modern Proper at https://themodernproper.com/chicken-fajita-burrito-bowl