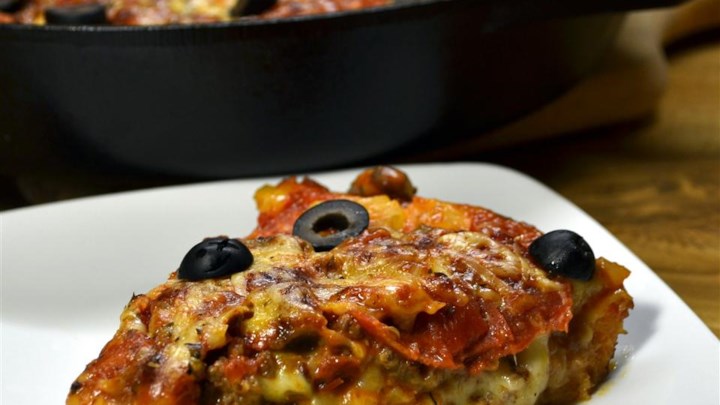 This is the best Chicago-style pizza that I have ever had. Make sure that you use the Parmesan in hard triangle form. It tastes so much better when you grate it yourself.
Prep Time
    •    Prep time: 30 minutes
    •    Cook time: 35 minutes
    •    Yield: Serves 6

Ingredients
    •   1 (1 pound) loaf frozen bread dough, thawed
    •   1 pound bulk Italian sausage
    •   2 cups shredded mozzarella cheese
    •   8 ounces sliced fresh mushrooms
    •   1 small onion, chopped
    •   2 teaspoons olive oil
    •   1 (28 ounce) can diced tomatoes, drained
    •   3/4 teaspoon dried oregano
    •   1/2 teaspoon salt
    •   1/4 teaspoon fennel seed
    •   1/4 teaspoon garlic powder
    •   1/2 cup freshly grated Parmesan cheese
Method
Preheat the oven to 350 degrees F (175 degrees C). Press the dough into the bottom and up the sides of a greased 9x13 inch baking dish

.

Crumble the sausage into a large skillet over medium-high heat. Cook and stir until evenly browned. Remove the sausage with a slotted spoon, and sprinkle over the dough crust. Sprinkle mozzarella cheese evenly over the sausage

.

Add mushrooms and onion to the skillet; cook and stir until the onion is tender. Stir in the tomatoes, oregano, salt, fennel seed and garlic powder. Spoon over the mozzarella cheese. Sprinkle Parmesan cheese over the top.

Bake for 25 to 35 minutes in the preheated oven, or until crust is golden brown.


This great family recipe is thanks to allrecipes Recipes at https://www.allrecipes.com/recipe/82007/chicago-style-pan-pizza/?internalSource=hub%20recipe&referringId=16546&referringContentType=recipe%20hub&clickId=cardslot%209