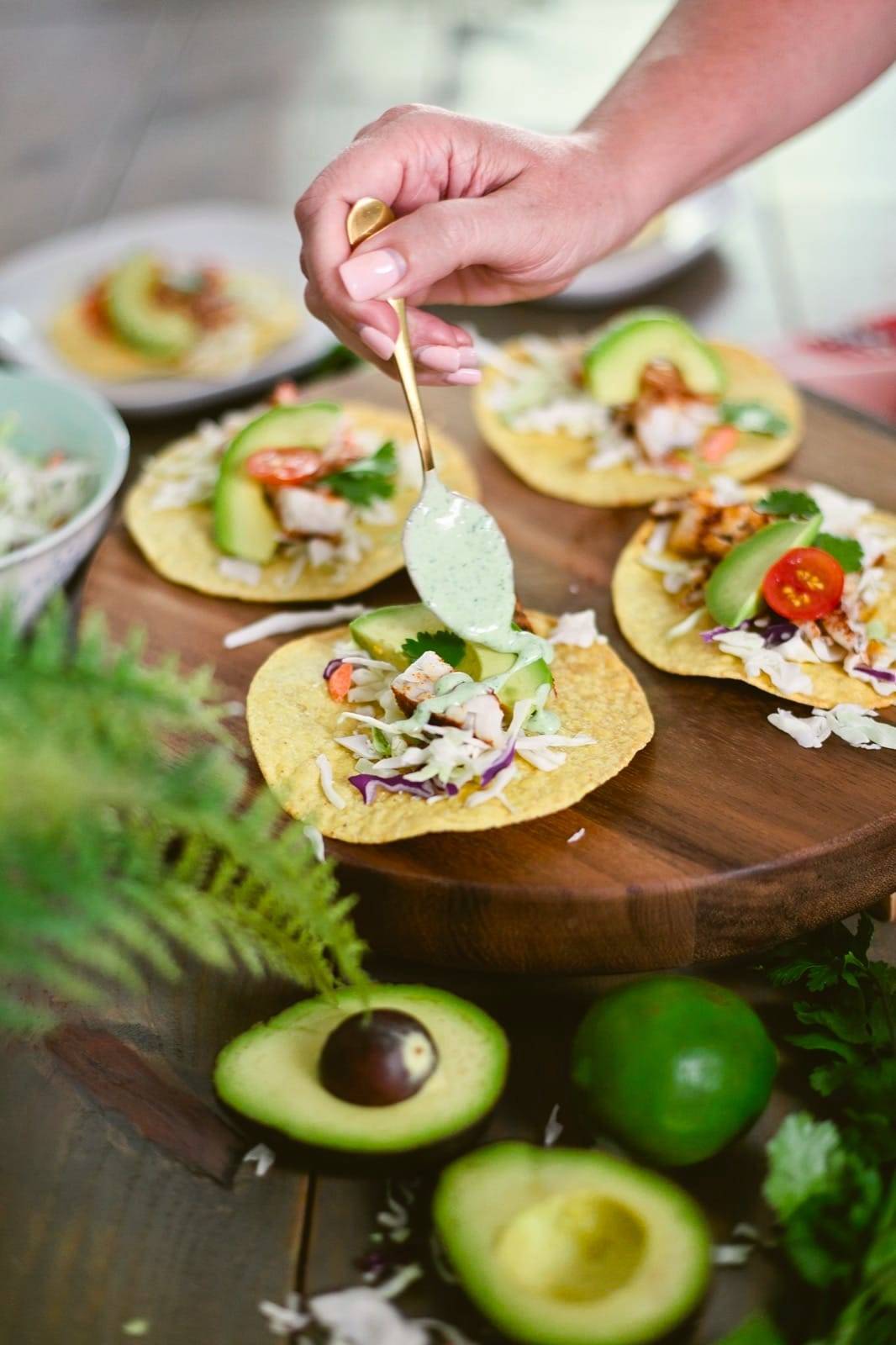 Blackened Barramundi Tostada with Cilantro Lime Crema
Barramundi's mild and buttery flavor goes with just about anything—it's easy to mix and match ingredients. This Blackened Barramundi Tostadas with Cilantro Lime Crema recipe will definitely bring the whole gang to the table. Recipe, food styling & photography by Tabitha Blue of Fresh Mommy Blog.
Prep Time

    •    Prep time: 10 minutes
    •    Cook time: 10 minutes
    •    Yield: Serves 4
Ingredients
    •    3 (4-oz) Australis Barramundi fillets
    •    1 1/2 cups shredded cabbage/cole slaw mix
    •    8 tostada shells
    •    1 medium avacado
    •    2 tbsps olive oil
    •    1 tbsp paprika
    •    1/2 tbsp onion powder
    •    1/2 tsp thyme
    •    1/4 tsp cayenne pepper
    •    1/4 tsp garlic powder
    •    1/2 cup sour cream
    •    juice of one lime
    •    4 handfuls cilantro
    •    1 clove minced garlic
    •    cherry tomatoes (optional)
    •    Salt and freshly ground pepper (to taste)
Method
Preheat the oven to 425 degrees F. Thaw the barramundi and rinse with cold water. Use paper towel to pat each fillet very dry.


Combine paprika, onion powder, thyme, cayenne pepper, garlic powder and half a teaspoon of salt and black pepper in a small bowl. Prepare a sheet pan for baking by brushing it with a drizzle of olive oil, then brush thawed barramundi fillets with olive oil. Sprinkle spice mixture over the fillets. Rub the spice in to both sides of the fish. Bake fish until brown and flaky, about 8-10 minutes.


While fish fillets are baking, place sour cream, juice of one lime, cilantro and minced garlic into a blender and mix well. Add salt and pepper to taste, as desired.



Once fish fillets are finished baking, plate the meal by topping each tostada with shredded cabbage/cole slaw mix. Pull apart the blackened fish fillets and place on top of the shredded cabbage. Add a slice of avocado and a one-two tablespoons of the cilantro lime crema to each tostada. Top with extra cilantro, sliced cherry tomatoes (if desired) and another squeeze of lime, to taste.


This great family recipe is thanks to The-Better-Fish Recipes at https://www.thebetterfish.com/recipe/blackened-barramundi-tostada-with-cilantro-lime-crema/