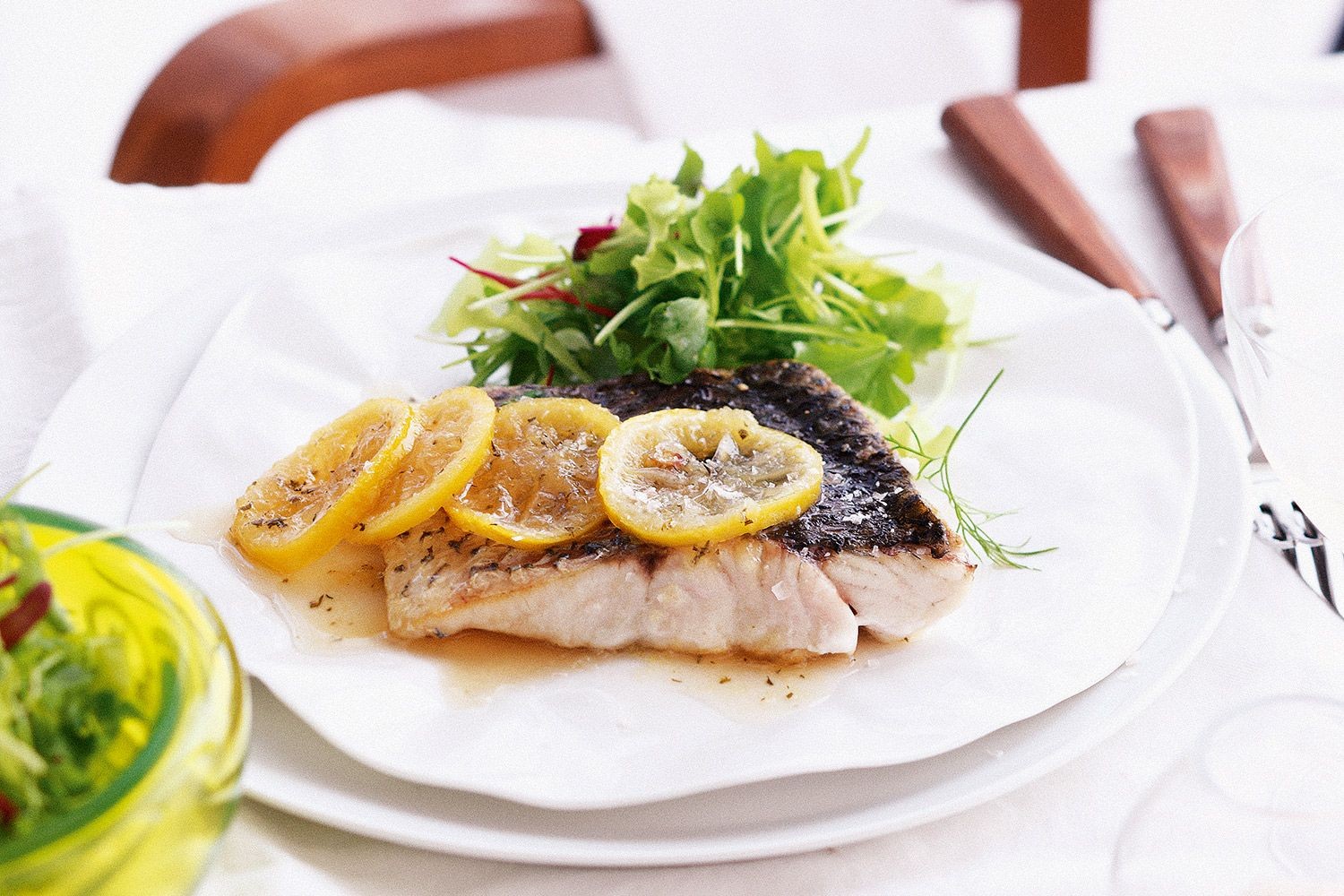 Beer's Pan-Roasted Barramundi
Wild barramundi has a great flavour and texture, but you must take care when cooking it, as it is a really dense-fleshed fish that needs to be cooked through. The caramelised lemon is a real sweet-sour concoction; adding the fresh ginger and lemon thyme at the last minute balances its flavour beautifully.
Prep Time
    •    Prep time: 10 minutes
    •    Cook time: 40 minutes
    •    Yield: Serves 4

Ingredients
    •    Salad leaves, to serve
    •    Squeenze of lemon juice
    •    Unsalted butter, to pan-fry
    •    Extra virgin olive oil, to pan-fry
    •    4 x 160g wild barramundi fillets with skin-on, pin-boned

Caramelised lemons:
    •    2 tsps finely grated ginger
    •    1/2 cup (110g) caster sugar
    •    1 tsp finely chopped lemon thyme
    •    2 lemons, cut into 5mm thick slices, plus juice of 1 lemon

Method
For the caramelised lemons, place the sugar and 1 cup (250ml) water in a small saucepan and bring to the boil over medium heat, stirring to dissolve the sugar. Increase the heat to high and boil rapidly for 5 minutes or until a syrup begins to form. Reduce to the lowest heat possible, then add the sliced lemons and juice and cook for a further 10-15 minutes until the lemon slices are translucent but still hold their shape – taking care that the syrup does not darken in colour and caramelise. Remove from the heat, then add the ginger and thyme and set aside to infuse until ready to serve.


Heat a knob of butter and a splash of oil in a frypan over medium-high heat. Season barramundi with salt and pepper. Place in the hot pan, skin-side down, then cook for 4-5 minutes until the skin is crisp. Carefully flip fish and cook for another 4-5 minutes or until cooked through and firm to touch.


Add a squeeze of lemon juice, then serve the fish topped with caramelised lemons, a little of the lemon syrup and a rocket salad to the side.


This great family recipe is thanks to delicious Recipes at https://www.delicious.com.au/recipes/pan-roasted-wild-barramundi-caramelised-lemon/d4a69e98-b088-4f04-99df-5a0b7e1469c6?current_section=recipes