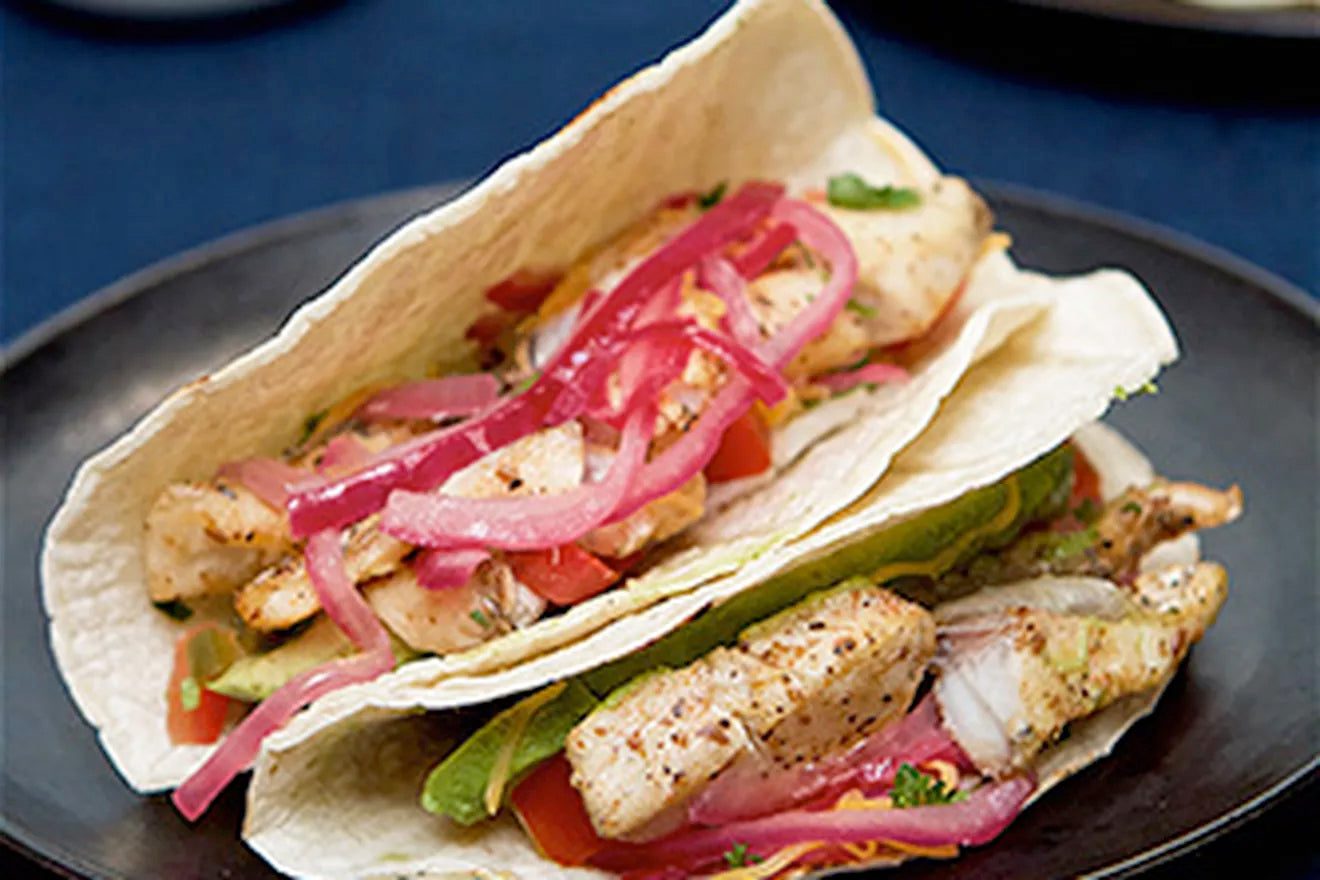 Prep Time
    •    Prep and Cook time: 30 minutes
    •    Yield: Serves 4

Ingredients
    •    1/2 tsp salt
    •    2 tbsps olive oil
    •    2 tbsps peanut oil
    •    2 tbsps chile powder
    •    1/2 tsp cumin powder
    •    2 cloves garlic, minced
    •    8 - 12 yellow corn tortillas
    •    1/4 tsp ground black pepper
    •    1 cup cheddar cheese, grated
    •    2 Jalapeno peppers, cut into medium slices
    •    1 medium red onion, cut into medium slices
    •    4 pieces of barramundi fillets, cut into 1 inch strips

Method
Combine chili powder, cumin, salt, black pepper together in a small bowl, coat the Barramundi strips in the spices.

Heat a skillet over medium-high heat. Sear veggies using half the oil in a heavy skillet for about 4 minutes (softened but not wilted). Remove from pan and keep warm.

Add remainder of oil to pan and place fish strips down. Cook about 2 minutes.

Flip the fish once with a spatula, trying not to break it too much. Cook one additional minute.

Add veggies to the fish, gently mix and remove from heat.

In a clean pan over low heat put a few drops of oil, add a tortilla and gently move around with fingers, flip and repeat, until warmed and softened, about 1 minute. Stack warmed tortillas on a plate and cover with clean dish towel to keep warm.

Serve at once. Allow diners to spoon fish into tacos and add cheese, salsa, guacamole, sour cream, etc., as desired. Eat with hands.
This great family recipe is thanks to FOOD52 at https://food52.com/recipes/40261-barramundi-fish-tacos