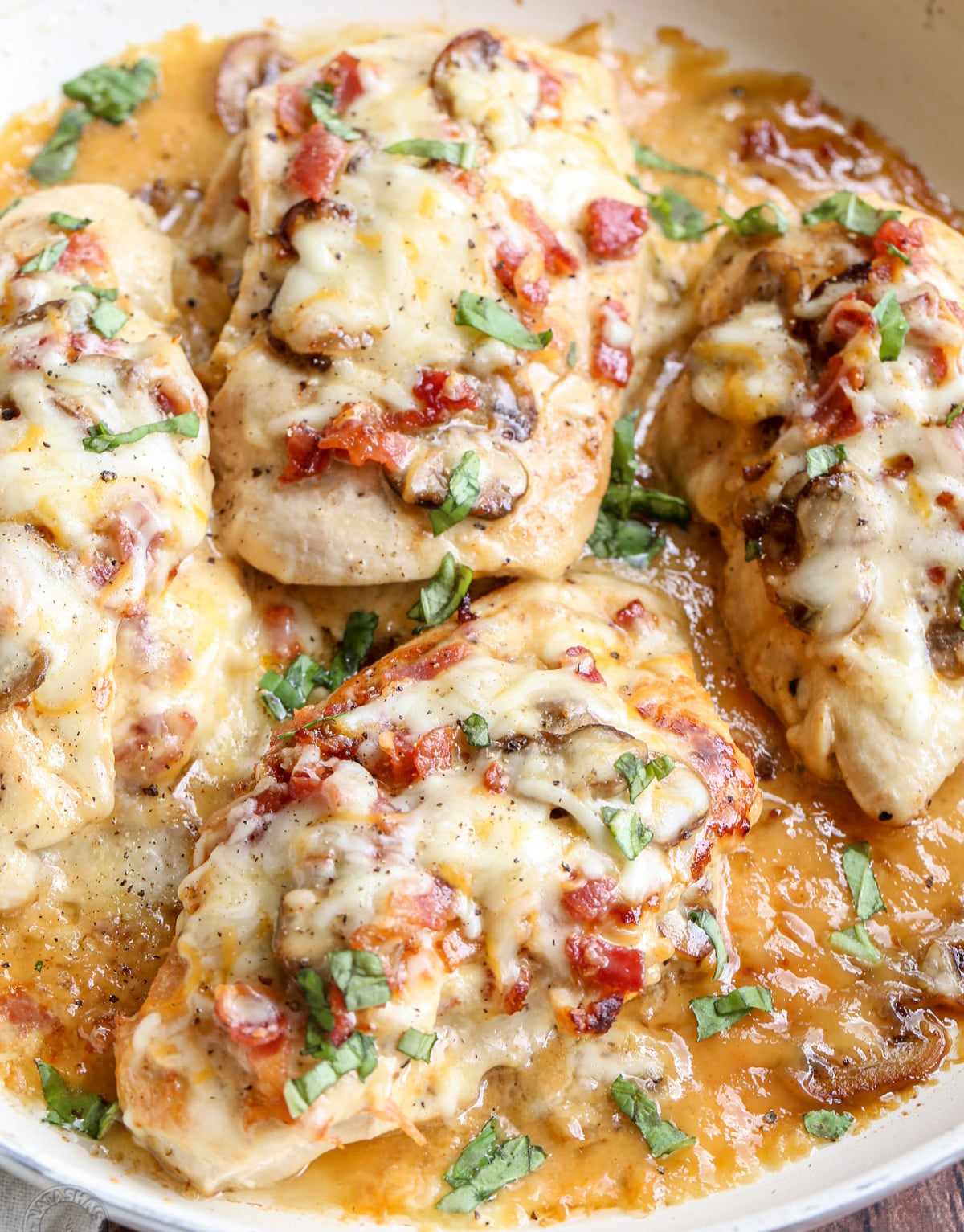 Bacon Mushroom Stuffed Chicken
This cheesy Bacon Mushroom Stuffed Chicken recipe smothered in a homemade honey mustard sauce is going to become an instant hit with kids and adults alike! An easy one-pan dish for busy evenings!
Prep Time
    •    Prep time: 10 minutes
    •    Cook time: 25 minutes

    •    Yield: Serves 4

Ingredients
For the stuffed chicken:
    •    1 tsp oil
    •    8 oz bacon
    •    4 chicken breasts
    •    8 oz cheese, grated
    •    8 oz mushroom, sliced
    •    salt and pepper, to taste

For the honey mustard sauce:
    •    ⅛ tsp paprika
    •    3 tbsps honey
    •    1 tbsp sour cream
    •    ¼ cup mayonnaise
    •    1 ½ tbsp Dilon mustard

Method
Turn oven on to 350°F.


Prepare honey mustard sauce. Combine the ingredients for the sauce, mix until well incorporated.


Cut bacon into small pieces. Sauté in a large skillet until cooked, stirring frequently for even cooking. Remove bacon.


Reserve 1 tsp of the grease drain the remaining grease. Add the mushroom reserved bacon grease and sauté until browned, lightly season with salt and pepper. Remove from pan, set aside to cool.


Gently cut through the center of chicken breasts creating a pocket. Season chicken with salt and pepper.


Open the chicken breast, stuff with cheese, mushrooms and bacon. Gently secure pocket with a toothpick.


On med/high heat, add 1 tsp oil to skillet. Once hot, carefully transfer chicken to skillet. Sautee chicken 4-5 minutes per side until fully cooked, flipping halfway (cooking time may differ, depending on the size of the chicken).


Top stuffed chicken with remaining bacon, mushrooms and cheese. Drizzle sauce over everything. Cover skillet with foil and bake 15 minutes. Remove foil, cook another 2-3 minutes.


This great family recipe is thanks to Natasha's Kitchen Recipes at https://natashaskitchen.com/bacon-mushroom-stuffed-chicken-recipe/