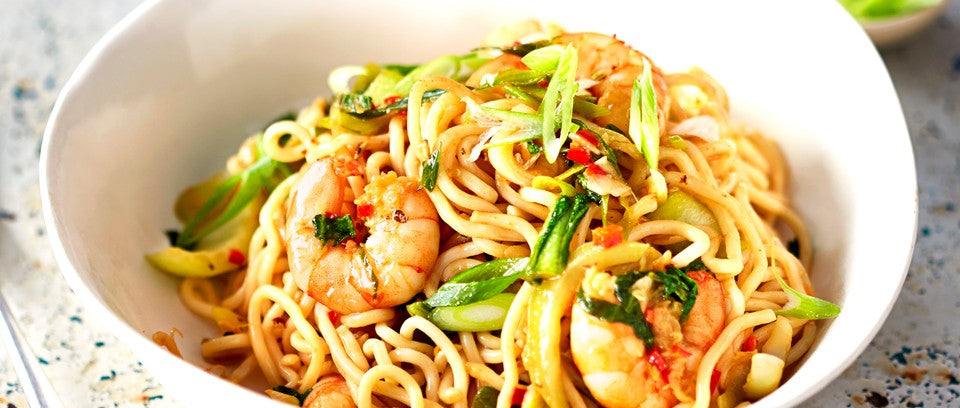 These hot and spicy Chinese-style noodles only take 15 minutes to whip up so they'd make a great quick and easy mid-week meal if you're stuck for time or craving some healthy, low cal fast food.
Prep Time
    •    Prep and cook time: 15 minutes
    •    Yield: Serves 1
Ingredients
    •    groundnut oil
    •    2 tsps soy sauce
    •    1 tsp rice vinegar
    •    1 pak choi, shredded
    •    1 garlic clove, crushed
    •    1 tsp ginger grated to make
    •    100g raw peeled king prawns
    •    100g fine egg noodles, cooked
    •    1 small red chilli, seeded and diced
    •    4 spring onions, trimmed and sliced
    •    1/4 tsp Szechuan peppercorns, ground
Method
Heat 1 tsp oil in a wok and add the ground szechuan pepper, garlic, ginger, and chilli. Stir-fry for a few minutes until fragrant.

Add the pak choi, 3 of the spring onions and the prawns and cook for 2-3 minutes until the prawns are pink.

Add the noodles and toss to reheat. Add the soy sauce and vinegar and cook for a minute until the prawns are completely cooked through, and the noodles are hot. Sprinkle with the remaining spring onion to serve.


This great family recipe is thanks to Olive Magazine Recipes at https://www.olivemagazine.com/recipes/healthy/szechuan-prawn-noodles/