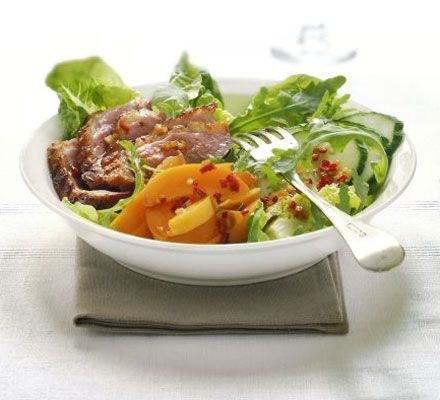 Warm Duck, Apricot & Rocket Salad
Savoury and sweet, this salad is a delicious blend of seasonal summer ingredients.
Prep Time
    •    Prep time: 10 minutes
    •    Cook time: 25 minutes
    •    Yield: Serves 4

Ingredients
    •    1/2 cucumber
    •    50g bag rocket
    •    2 little gem lettuces
    •    4 large or 6 smaller apricots
    •    2 duck breasts (approx. 250g each)

For the dressing:
    •    1 or 2 red chillies
    •    1 tbsp soy sauce
    •    1 shallot, finely chopped
    •    3 tbsps lemon or lime juice
    •    1 tbsp light muscovado sugar

Method
Score the skin of the duck breasts in lines close together. Pat dry with kitchen paper, then sprinkle with seasoning. Put in a frying pan, skin-side down, then gently heat until fat starts to run. Increase heat, fry for 15 mins, draining off the fat as you go. Turn over, cook for 5-10 mins on the other side, depending on how well you like it cooked. Remove from pan, then put on a board lined with kitchen paper. Leave to rest while you prepare the salad.
Halve and stone the apricots, then cut into thick slices. Cut cucumber into diagonal slices. Separate the Little Gem leaves, divide between 4 bowls, then scatter over the rocket.
Halve, deseed and dice chillies, then mix with the other dressing ingredients. Thinly slice the duck and divide between bowls, with the cucumber and apricots. Drizzle over the dressing and serve.
This great family recipe is thanks to BBC Good Food at https://www.bbcgoodfood.com/recipes/warm-duck-apricot-rocket-salad