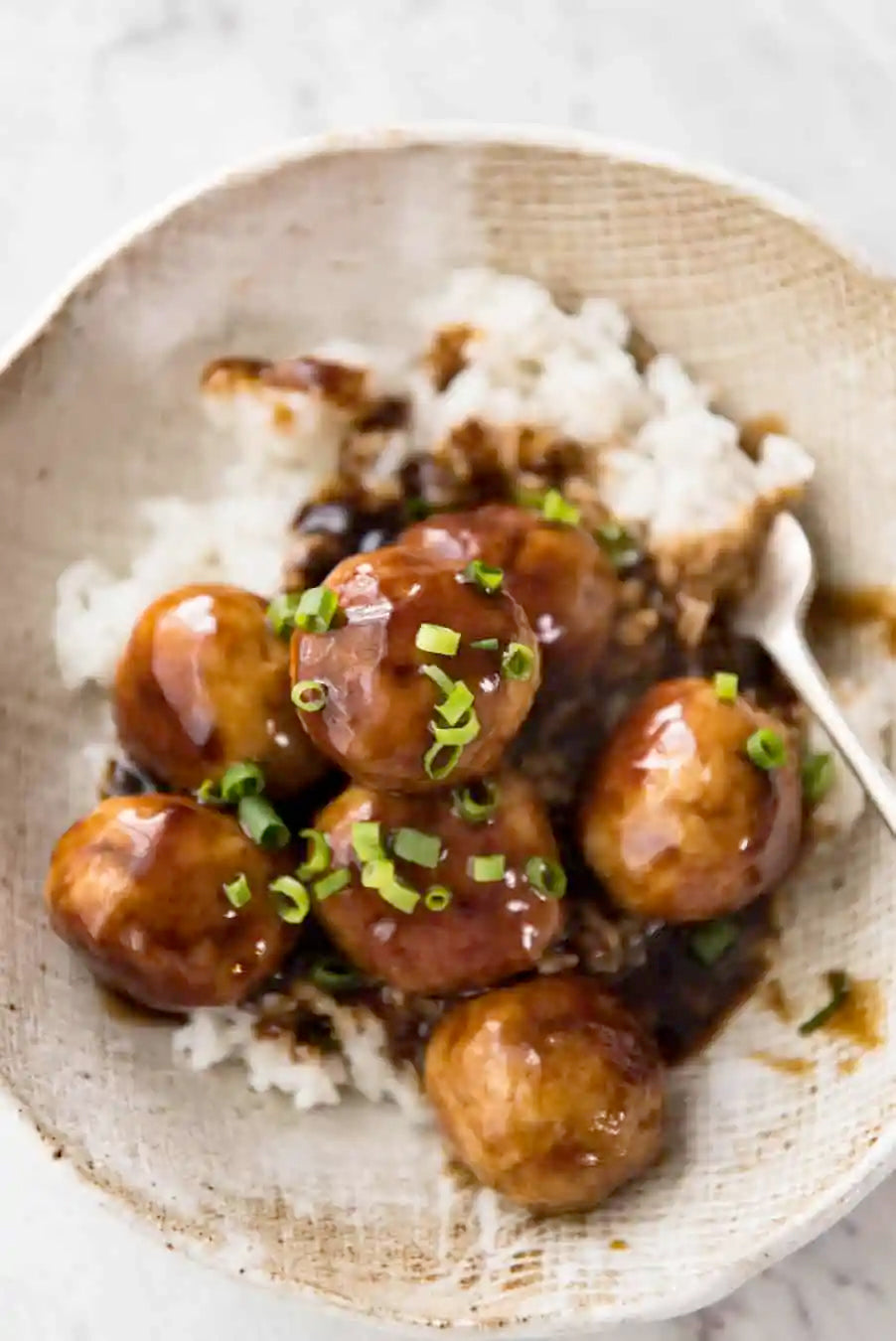 Teriyaki Chicken Meatballs Recipe
Plump juicy chicken meatballs smothered in a terrific homemade Teriyaki sauce, based on my mother's authentic Teriyaki Chicken recipe. Would you serve these Teriyaki Chicken Meatballs as a meal or pass them around at a party?
These Teriyaki Meatballs are a total crowd pleaser. The sauce for this recipe is based on my mother's real-deal Teriyaki Chicken recipe (you will be surprised how easy it is – less than 15 minutes start to finish, NO marinating!)
Prep Time
    •    Prep time: 20 minutes
    •    Cook time: 15 minutes
    •    Yield: Serves 4

Ingredients
For the Teriyaki Sauce:
    •    1/4 cup / 65ml Mirin
    •    3/4 cup / 180ml water
    •    1 tbsp cornflour / cornstarch
    •    1 tbsp white sugar (Brown also OK)
    •    1/4 cup / 65ml soy sauce, all purpose / ordinary
    •    1/4 cup / 65ml cooking sake or sub with Chinese cooking wine or dry sherry

For the Meatballs:
    •    1 egg
    •    1/2 tsp salt
    •    1 garlic clove, minced
    •    500g / 1 lb chicken mince
    •    1 cup panko breadcrumbs
    •    1 1/2 tsp cooking sake, or sub with Chinese cooking wine or dry sherry

For Cooking:
    •    1 tbsp oil
    •    Sesame seeds, for garnish (Optional)
    •    Sliced green onions / scallions, for garnish (Optional)

Method
Place Meatball ingredients in a bowl.
Place cornflour in a bowl with 1 tbsp of the water, then mix until lump free. Then add the soy sauce, sake, mirin and sugar, mix.
Add 2 tsp of Teriyaki Sauce into the Meatball bowl.
Add remaining water into the Sauce and mix. Set aside.

Mix Meatball mixture with your hands. Measure out 1 heaped tablespoon and roll into balls. See Note 3 for tips if mixture is too sticky.

Heat oil in a large skillet over medium high heat. Add all the meatballs and cook, rolling to brown all over, for 5 minutes. They will still be a bit raw inside.

Turn heat down. Give the Sauce a quick mix then add it into the pan. Bring to a simmer then cook for 2 - 3 minutes or until it thickens into a glossy sauce that coats the meatballs.

Serve over rice, garnished with green onions and sesame seeds if desired.
This great family recipe is thanks to Recipe Tin Eats at https://www.recipetineats.com/teriyaki-chicken-meatballs/