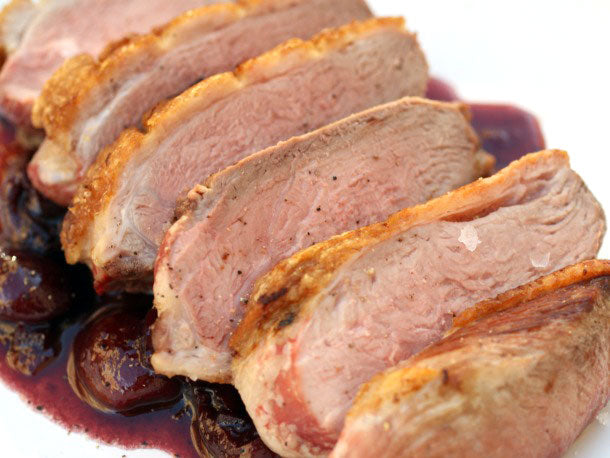 Sweet-Tart Duck Breasts With Fresh Cherry Sauce
Juicy, crispy duck breast on a bed of sweet-tart cherry sauce with balsamic vinegar and honey. What could be more delicious or impressive? I'd recommend this for the perfect stay-at-home meal. Baby greens lightly tossed in olive oil and lemon juice or super-creamy puréed potatoes would be the perfect accompaniments.
Prep Time
    •    Prep time: 10 minutes
    •    Cook time: 20 minutes
    •    Yield: Serves 2
Ingredients
    •    2 tsps olive oil
    •    1/2 cup dry red wine
    •    1 tbsp balsamic vinegar
    •    1 small shallot, finely diced
    •    2 x 5 to 6 ounce duck breasts
    •    coarse sea salt, such as maldon
    •    10 twists on the black pepper mill
    •    1/2 tbsp very cold unsalted butter
    •    1/4 cup low-sodium chicken stock
    •    1 tsp honey, preferably orange flower
    •    7 ounces bing cherries, pitted, stemmed, and halved
Method
Take the duck out of the fridge 15 minutes before you want to use it. Preheat the oven to 400°F. Score the fat on top of the duck in a crosshatch fashion, carefully to score only the fat and not the flesh beneath it. Season the duck on all sides with salt.


Preheat a small nonstick skillet on medium heat. Place the duck, skin-side-down, in the hot pan and leave it alone for 10 to 12 minutes, until the skin is golden brown and the fat has rendered.


Take the pan off the heat, and turn the duck breasts over so the bottom of the breasts are coated in the rendered duck fat. Pour the excess fat into a heat-proof container, and keep for frying potatoes.


Put the duck, skin-side-up in its original sauté pan, in the oven and cook for 10 minutes. The internal temperature will be about 135°F. Let the duck breasts rest on a cutting board for 10 minutes before slicing.


To make the cherry sauce, heat a small nonstick skillet over medium-low heat. Add the olive oil and the shallots. Sauté for 1 minute, just to soften the shallots. Add the wine, stock, and cherries. Bring the mixture to a boil. Add the balsamic vinegar, salt to taste, and pepper. Reduce the heat to medium-low, and simmer for 20 minutes.


Remove a 1/4 cup combination of liquid and cherries and purée in a mini food processor. Return the puréed mixture to the pan with the rest of the sauce, and stir in the honey and the cold butter.


Slice the duck. Pour the sauce onto a serving plate, and arrange the slices of duck on top. Season with a bit of salt and pepper for garnish.


This great family recipe is thanks to Serious Eats Recipes at https://www.seriouseats.com/recipes/2012/01/sweet-tart-duck-breasts-with-fresh-cherry-sauce-recipe.html