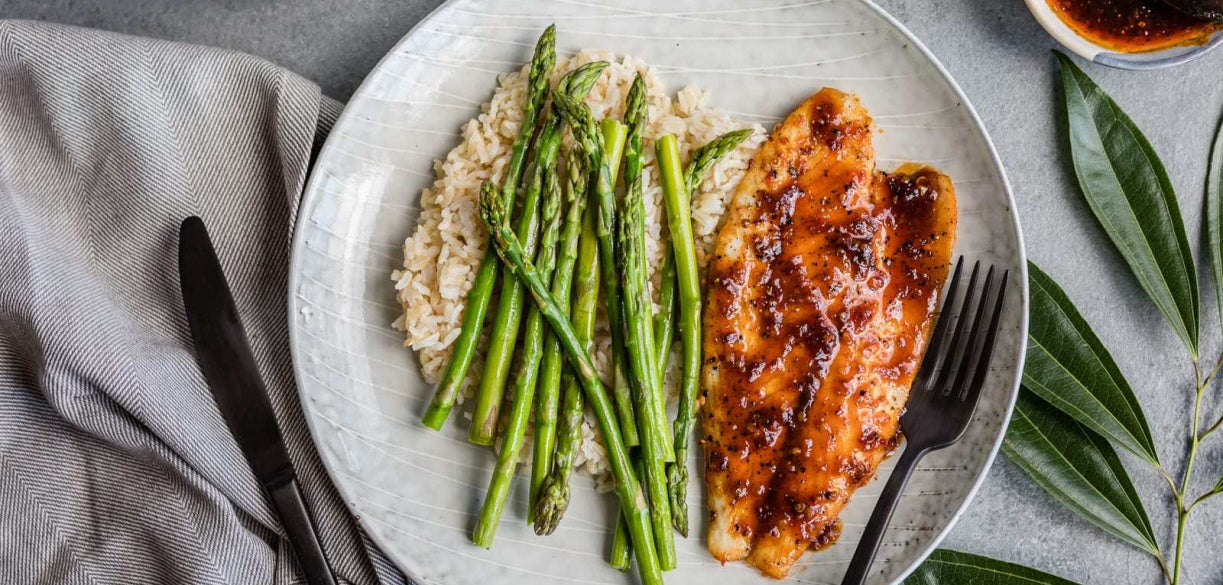 Sweet n' Spicy Barramundi
This sauce is purely addictive and can be made as spicy as you'd like. The barramundi is gently cooked in the oven and finishes cooking under the broiler to add extra depth of flavor to the spicy sauce. Serve with rice or noodles and your favorite green veggie for a quick and easy dinner that's sure to become a favorite.
Prep Time
    •    Prep time: 10 minutes
    •    Cook time: 40 minutes
    •    Yield: Serves 4
Ingredients
    •    2 tbsps honey
    •    2 tbsps sriracha
    •    2 tbsps lime juice
    •    2 tbsps soy sauce
    •    1 tbsp sesame oil
    •    2 tbsps brown sugar
    •    1 tbsp Thai fish sauce
    •    3 garlic cloves, finely pepper
    •    2 cups short grain rice, rinsed
    •    1 scallion, sliced into thin rounds
    •    1/2 tsps freshly ground black pepper
    •    4  6-ounce barramundi fillets, thrawed
    •    1-2 broccoli crowns, cut into small florets
    •    2 tbsps Asian chile sauce (such as sambal oelek)
Method
Preheat oven to 400 F. Line a large baking sheet with parchment paper for the fish.
In a small pot, add rinsed rice and 2.5 cups of water over medium-high heat. Once at a boil, turn down heat to a simmer and cover with a lid. Cook for 15 minutes. Remove from the heat, keeping the lid on, and set aside.
On a baking sheet, toss broccoli florets with a little oil and season with salt. Roast in the oven for 15-20 minutes, until cooked through.
Combine all of the sauce ingredients in a separate small pot on the stove. Cook over medium-low heat and continuously whisk until the brown sugar is completely dissolved and the sauce thickens, about 4-5 minutes. Remove from heat and set aside.
Place fish fillets on the parchment lined baking sheet. Drizzle or brush fillets with oil. Bake for 10 minutes.
Remove fish from oven. Adjust oven rack so it is 4-inches from the heating element and set the oven to broil. Spoon a scant tablespoon of the sauce onto each fillet, spreading it evenly over the entire fillet. Place under broiler for 1-5 minutes, depending on how hot the broiler is, with the oven door cracked open. (Some ovens have two broiler settings: low and high. Use low if the option is available.) Stay by the oven and watch closely so the sauce doesn't burn.
Remove fish from oven and serve immediately over steamed rice and roasted broccoli. Garnish with scallions. Serve any remaining sauce on the side.


This great family recipe is thanks to The-Better-Fish Recipes at https://www.thebetterfish.com/recipe/sweet-n-spicy-barramundi%e2%80%a8/