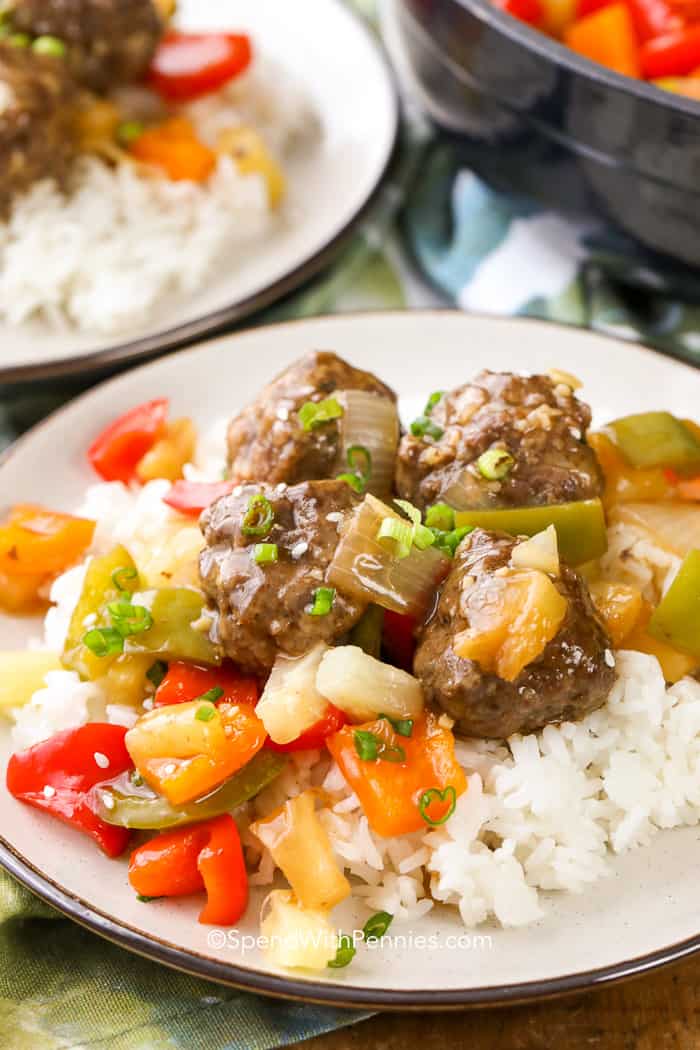 Juicy homemade meatballs and tender crisp veggies in a sweet tangy sweet & sour sauce! Sweet and Sour Meatballs are a family favorite served over rice! Seasoned ground beef meatballs, tender crisp veggies and pineapple chunks are cooked in a sweet and tangy sauce.
This easy dish is one my whole family loves! We spoon these sweet & sour meatballs over rice and serve this dish with a fresh Cucumber Salad for a complete meal!
Prep Time
    •    Prep time: 5 minutes
    •    Cook time: 25 minutes
    •    Yield: Serves 8

Ingredients
Meatballs:
    •    2 lbs lean ground beef
    •    2 large eggs
    •    3/4 cup bread crumb
    •    1 ⁄2 teaspoon garlic powder
    •    ⅓ cup minced onion
Veggies:
    •    1 onion
    •    1 red pepper
    •    1 orange pepper
    •    1 green pepper
    •    3 tbsps cornstarch
    •    3 tbsps water
Sauce:
    •    2 cloves garlic
    •    1 tsp ginger fresh, minced
    •    2 tsps Worcestershire sauce
    •    1/3 cup packed brown sugar
    •    1/3 cup white vinegar
    •    1.5 tbsps soy sauce
    •    1 14 ounce can pineapple tidbits, juice reserved

Method
Meatballs:
Combine all meatball ingredients and mix together well. Form into 3/4 inch meatballs and place on a baking sheet.

Bake meatballs at 350˚F for 20 minutes.

Assembly:
Whisk sauce ingredients (except cornstarch and water) and set aside.

Cut veggies into 1 inch chunks, set aside.

Cook onion until slightly softened, about 3 minutes. Add peppers and cook an additional 2-3 minutes.

Stir in the undrained pineapple, meatballs and sauce mixture along with ¼ cup water. Simmer 5 minutes to allow flavors to combine.

Create a slurry with the cornstarch and water and add just enough to thicken as desired. You may not need all of the slurry. Serve over rice.


This great family recipe is thanks to Spend-with-Pennies Recipes at https://www.spendwithpennies.com/sweet-and-sour-meatballs/