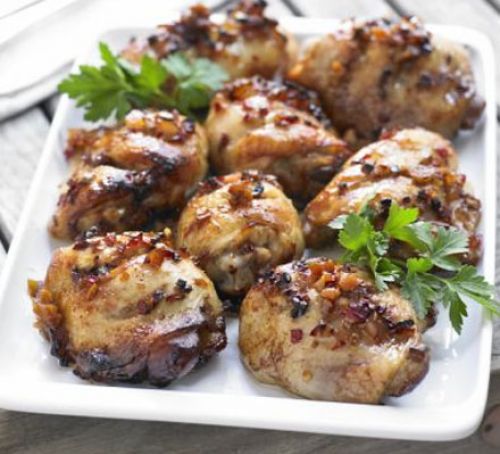 Sticky Tamari & Honey Chicken Thighs
Spice up your midweek chicken with a sticky soy glaze
Prep Time

    •    Prep time: 10 minutes
    •    Cook time: 45 minutes
    •    Yield: Serves 4
Ingredients
    •   8 skin-on chicken thighs
    •   2 tbsp clear honey
    •   chopped coriander, to serve
For the Marinade:
    •   2 tsp vegetable oil
    •   2 tbsp tamari
    •   3 tbsp Sherry or rice wine
    •   5 tbsp stem ginger in syrup, chopped
    •   6 garlic cloves, crushed
    •   1-2 red chillies, deseeded and chopped
Method
Heat oven to 180C/160C fan/gas 4. Slash the skin on each chicken thigh 2-3 times. Mix the marinade ingredients together in a large bowl. Toss the chicken in the marinade until completely coated, then either cook straight away or cover and chill for a few hrs to marinate.
To cook, place the chicken in a shallow roasting tin in a single layer and pour over the marinade. Bake for 35-40 mins. Drizzle with honey, place under a medium grill and cook for 3 mins more, until the skin is golden and crisp.
Place the chicken on a serving plate and tip all the cooking juices into a small saucepan, pouring off any excess fat. Over a medium heat, bubble down the juices until thick and syrupy. Drizzle over the chicken and scatter with coriander.


This great family recipe is thanks to BBC Goodfood Recipes at https://www.bbcgoodfood.com/recipes/487631/sticky-tamari-and-honey-chicken-thighs