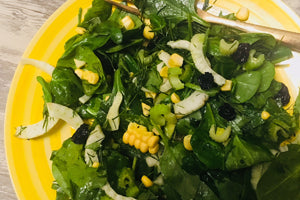 The best salads usually result from a bit of experimenting with available veggies from the fridge. This salad was exactly that and even surpassed my expectations so much so that I decided to share it with Emma for her BBQ summer collection.
This salad is so fresh and light and tastes like a bowl of health! It could blend in really well at any barbeque buffet with other salads due to its light and not overpowering flavor or could definitely be eaten alone with some grilled barbeque chicken skewers or a perfectly barbequed steak.
Prep Time
    •    Prep time: 10 minutes
    •    Yield: Serves 2-4 (Double or triple up for a large BBQ)
    •    By: Maayan Schwartz of Your Outsourced Kitchen

Ingredients
    •    Box of pre washed baby spinach approximately 140 grams or (6 cups)
    •    1 perfectly ripe avocado 
2 small fennel bulbs
    •    1 fresh and uncooked corn on the cob
    •    2 pieces of celery
    •    2 tbsps capers
    •    Large bunch of fresh dill (apx 1/3 cup)
    •    3 spring onions chopped
    •    Juice from one freshly squeezed lemon
    •    2 tbsps olive oil
    •    Pink Himalayan salt and black pepper
    •    Optional – a few tart dried cherries for garnis
Method
After you've' washed all your veggies, fill up a nice size salad bowl with your spinach leaves.  Chop up the dill, spring onions and celery into very small fine pieces and place in the salad bowl with the spinach. Next, using a sharp knife with a serrated edge, carefully cut the fresh corn off the cob and put the corn kernels into the salad bowl with the other veggies.  Next, slice your fennel into very thin pieces and also cube your perfectly ripe avocado and add to the bowl.  Finally, toss in your capers, and mix it all up with some lemon juice, olive oil, salt and pepper and there you have it- your delicious Spring Spinach Salad.
If you're in the mood, you can always toss in some tart dried cherries for garnish. They add an unexpected tart sweetness that really blends well here.


This recipe is with thanks to the author of Your Outsourced Kitchen Maayan Schwartz