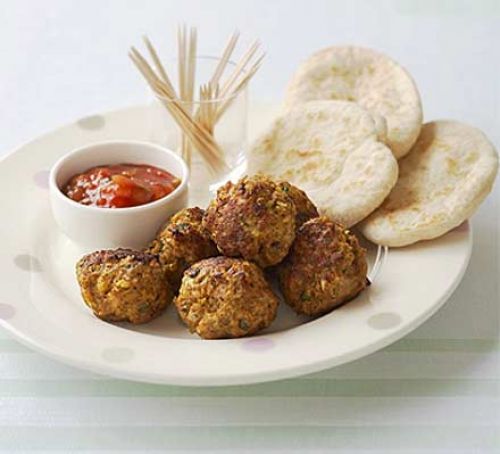 These are great to make with the kids. Teach them about handling raw meat and using different flavours
Prep Time

    •    Prep time: 15 minutes
    •    Cook time: 25 minutes
    •    Yield: Serves 6
Ingredients
    •   500g minced chicken turkey, lamb, beef or pork
    •   1 medium onion
    •   2 garlic cloves, crushed or chopped
    •   2 tsp mild or medium curry powder
    •   2 tsp ground cumin
    •   1 tsp garam masala
    •   ½ tsp paprika or cayenne pepper
    •   2 tbsp fresh coriander, chopped
    •   1 egg, beaten
    •   50g fresh breadcrumb
    •   1 tbsp olive oil
Method
Heat oven to 180C/fan 160C/gas 4.
Put the mince into the mixing bowl. Add the onions, garlic, curry powder, cumin, garam masala, paprika or cayenne pepper and coriander, then mix well. By adding these spices, you'll get a delicious flavour without having to add any salt.
Add the beaten egg and breadcrumbs, then mix again.
Divide the meat mixture into 15-18 evensized pieces and shape into balls (they should be about the size of a walnut). Always wash your hands thoroughly after handling raw meat so you don't transfer any germs that may be on the meat to other food or equipment.
Heat the oil in the frying pan over a medium heat and add the meatballs using a spoon. Cook them for 5 mins, turning until golden brown. Remove from the pan and place them on to the tray. Bake in the oven for 15-20 mins.
Remove from the oven. Remember to use oven gloves! Allow to cool slightly and serve with a fresh, crisp green salad, some pitta bread and tomato salsa.


This great family recipe is thanks to BBC Goodfood Recipes at https://www.bbcgoodfood.com/recipes/3428/spicy-meatballs