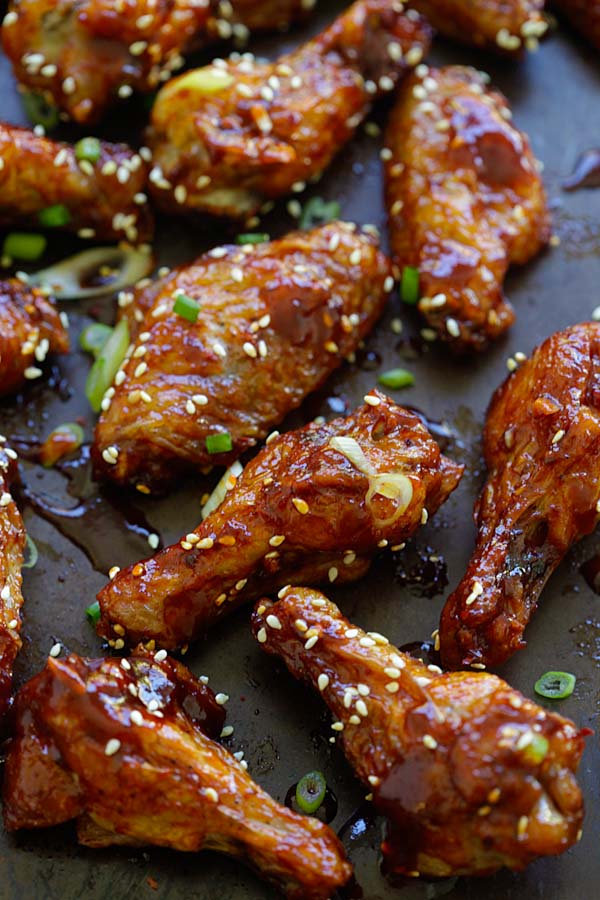 Spicy Korean Chicken Wings
This Spicy Korean Chicken Wings is just so crazy yummy baked with sweet and savory Korean red pepper sauce. Finger lickin' good!
Prep Time
    •    Prep time: 10 minutes
    •    Cook time: 45 minutes
    •    Yield: Serves 4

Ingredients
    •    salt
    •    2 tbsps water
    •    2 tbsps sugar
    •    1 tsp sesame oil
    •    2 tbsps soy sauce
    •    ground black pepper
    •    3 cloves garlic, minced
    •    white sesame for garnishing
    •    1/2 tbsp apple cider vinegar
    •    chopped scallions for garnishing
    •    1/2 tsp Korean chili powder, Gochugaru
    •    3 tbsps Korean red chili pepper paste, Gochujang
    •    2-3 lbs (1 - 1.3 kg) chicken wings, wingettes and drumettes only

Method
Preheat the oven to 450°F (232°C). Line a baking sheet with parchment paper. In a large bowl, season the wings with salt and pepper. Transfer the wings, skin side up, on the baking sheets and roast them for about 40 - 45 minutes, until they are cooked through and crisp.
In a small sauce pan, add the remaining ingredients except white sesame and scallions. Heat on low heat, whisk to mix well. Turn off the heat when it becomes saucy.
Toss the baked chicken wings with the sauce, coat well. Garnish with the sesame and scallions. Serve immediately.
This great family recipe is thanks to RASA MALAYSIA at https://rasamalaysia.com/spicy-korean-chicken-wings/