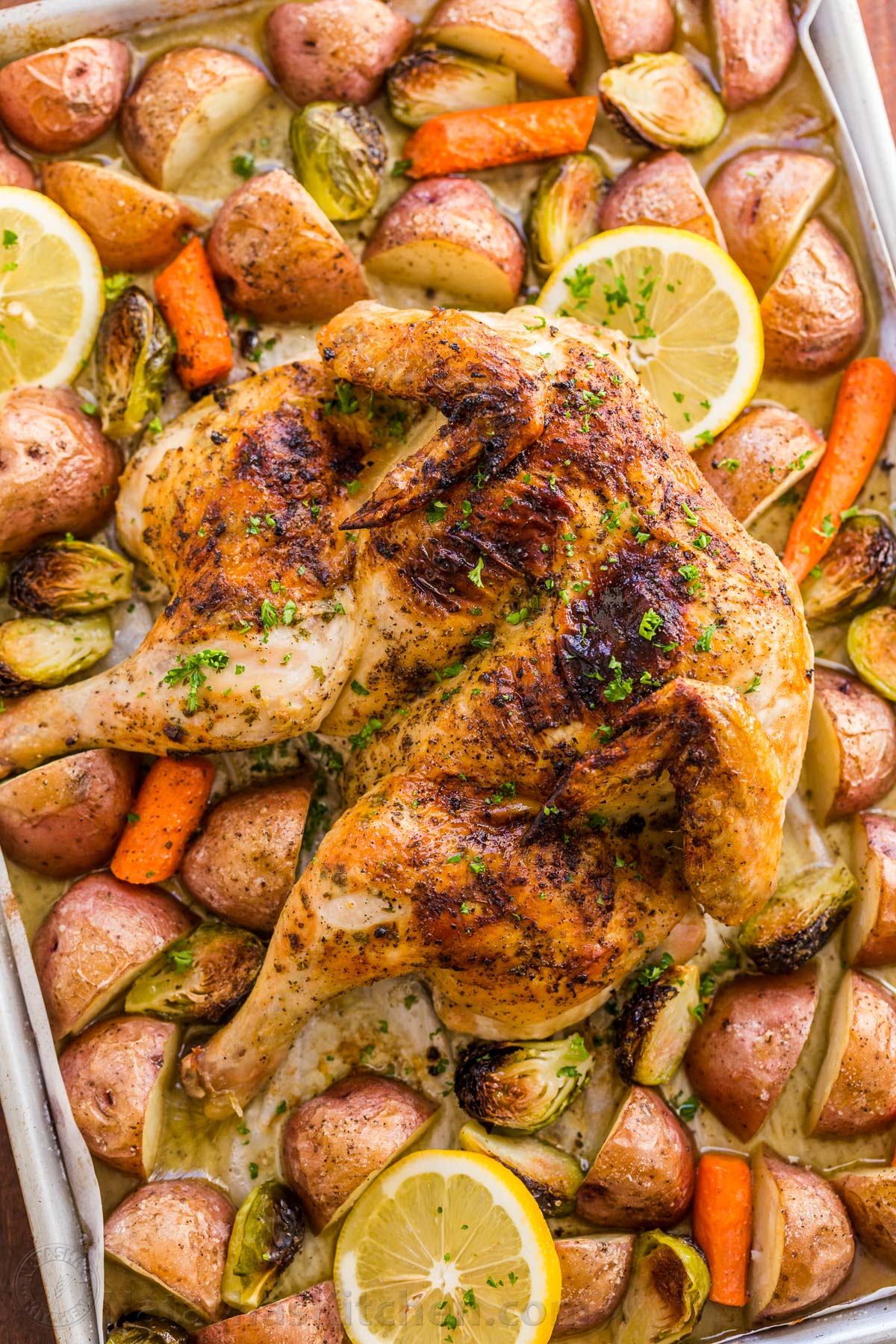 This Spatchcock Chicken recipe is our favorite way to roast a whole chicken. Every part of the roasted chicken turns out juicy and so flavorful with that garlic herb butter. This one pan chicken dinner is easy and so delicious!
Prep Time
    •    Prep time: 15 minutes
    •    Cook time: 45 minutes
    •    Yield: Serves 6

Ingredients
For the Spatchcook Chicken:
    •    1/2 tsp salt
    •    1/8 tsp black pepper
    •    4 1/4 lb whole chicken

For the Flavored Butter:
    •    1/2 tsp lemon zest
    •    1/8 tsp black pepper
    •    2 garlic cloves minced
    •    1 tbsp parsley finely chopped
    •    4 tbsps unsalted butter softened
    •    1 tsp salt plus more for vegetables
    •    1 tbsp olive oil plus more to drizzle

For the 1-Pan Chicken Dinner:
    •    3 medium carrots peeled and quartered
    •    8 oz Brussels sprouts trimmed and halved
    •    2 lbs medium red potatoes scrubbed and quartered

Method
(Preheat oven to 425˚F after step 4). Place chicken breast-side down with the wings/ neck facing towards you. To remove the spine, use kitchen shears to cut through the ribs right next to the spine along both sides. Open rib cage and use a heavy knife to score down the sternum. This will help pop out the breast bone and flatten chicken. Season inside the chicken with 1/2 tsp salt and a pinch of black pepper.
Flip the chicken over breast side up and set on parchment-lined, rimmed baking half sheet. Using the palm of your hand, push firmly over the breast bone forcing the chicken to lay completely flat. Use your thumbs to separate the skin from the meat over breast, thigh and drumstick areas.
In a small mixing bowl, combine the flavored butter ingredients. Mash with fork for a couple of minutes until lemon juice is mostly incorporated into butter.
Spread 2/3 of mixture under the chicken skin and and dot/spread remaining butter all over chicken.
Place prepared vegetables all around the chicken and drizzle everything with olive oil. Sprinkle chicken and vegetables generously with salt and some black pepper to taste.
Bake uncovered at 425˚F for 45 min or until instant read thermometer reads 160˚F when inserted into thickest part of chicken breast**. Remove form oven and rest uncovered 10 minutes on a cutting board before serving.


This great family recipe is thanks to Natasha's Kitchen at https://natashaskitchen.com/spatchcock-chicken-recipe-video/