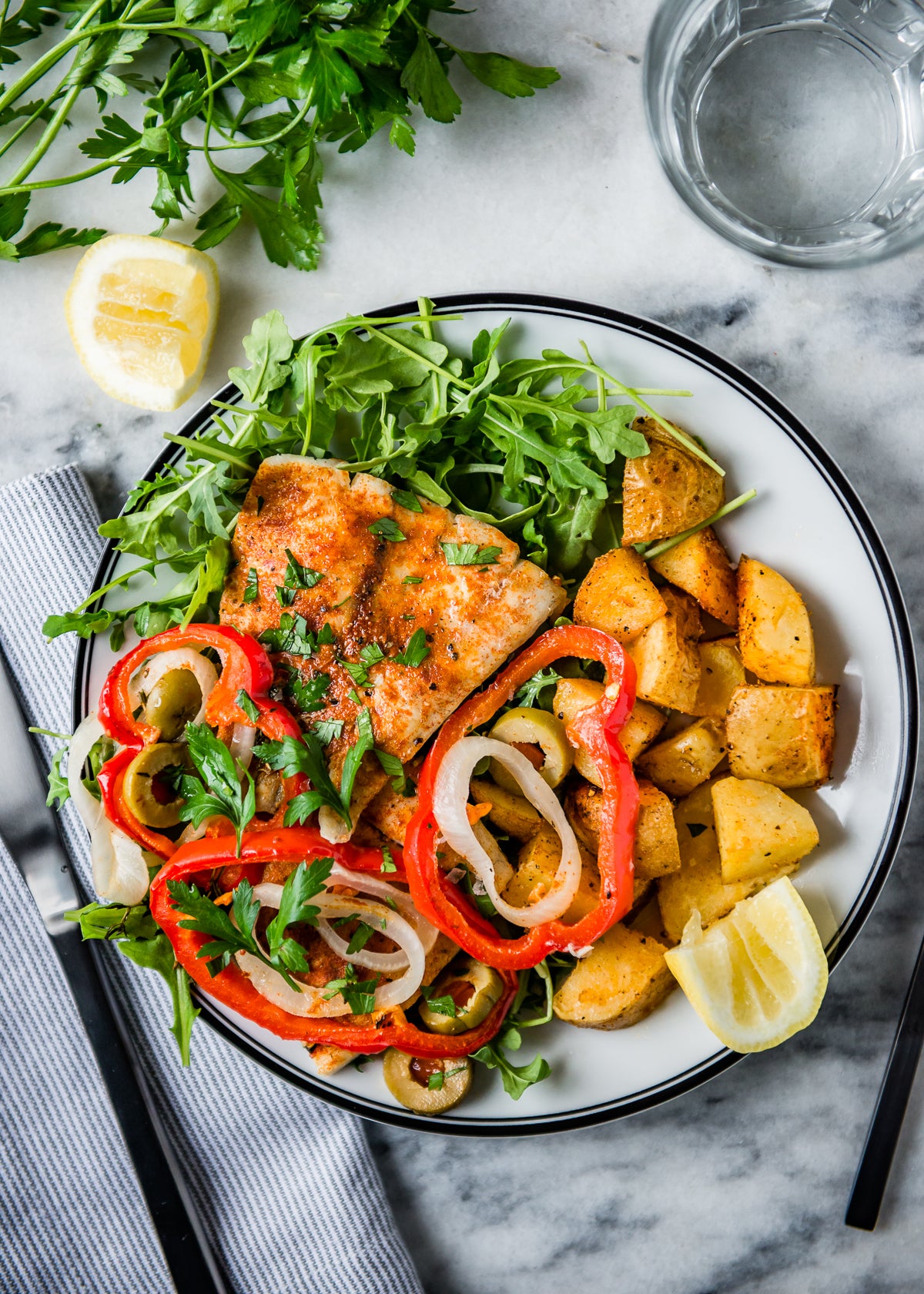 Spanish Style Baked Barramundi
Flavorful white fish seasoned with Spanish paprika and baked between layers of bell pepper, onions, olives, and fresh herbs.
Prep Time
    •    Prep time: 15 minutes
    •    Cook time: 40 minutes
    •    Yield: Serves 4

Ingredients
    •    fresh parsley, for garnish
    •    6 garlic cloves, smashed
    •    2 red bell peppers, thin sliced
    •    fresh lemon wedges, for serving
    •    1 tsp Spanish paprika (dulce or smoked)
    •    roasted potatoes, for serving on the side
    •    sea salt and freshly ground black pepper
    •    6-8 sprigs each: fresh oregano and thyme
    •    1/2 cup Spanish olives with pimentos, sliced
    •    2 (6-ounce) barramundi fillets, thawed, cut in half
    •    baby arugula or other tender leafy green, for serving
    •    1 onion,  cut into thin rounds and separated into rings
    •    2 tbsps extra virgin olive oil, divided, plus more for serving

Method
Preheat oven to 400°F. Use a little of the olive oil to lightly grease the inside of a 3 quart casserole pan.
Arrange half of the bell peppers, onions, garlic, and olives on the bottom of the casserole dish.
Season both sides of the barramundi filets with the paprika and a good pinch each sea salt and freshly ground black pepper. Place on top of the veggies and olives. Arrange half of the herb sprigs on top.
Place the remaining peppers, onions, garlic, and olives over the top of the fish. Season with a little more salt and pepper. Add the remaining herb sprigs. Drizzle the remaining olive oil over the top. Cover tightly with aluminum foil. Place in oven and bake for 30-40 minutes, or until fish is cooked through and veggies are tender.
Let cool slightly and serve with fresh greens, roasted potatoes, and garnish with lemon wedges and fresh parsley. Add an extra drizzle of olive oil, if desired.
NOTE: You can double the amount of the fish, if needed, depending on personal preference/appetite. Use the same amount of peppers and onions, and doubling the amount of herbs and paprika. Simply create an extra layer of fish and veggies and increase baking time by about 10-15 minutes.
This great family recipe is thanks to CAFE JOHNSONIA at https://cafejohnsonia.com/2017/09/spanish-style-baked-barramundi.html