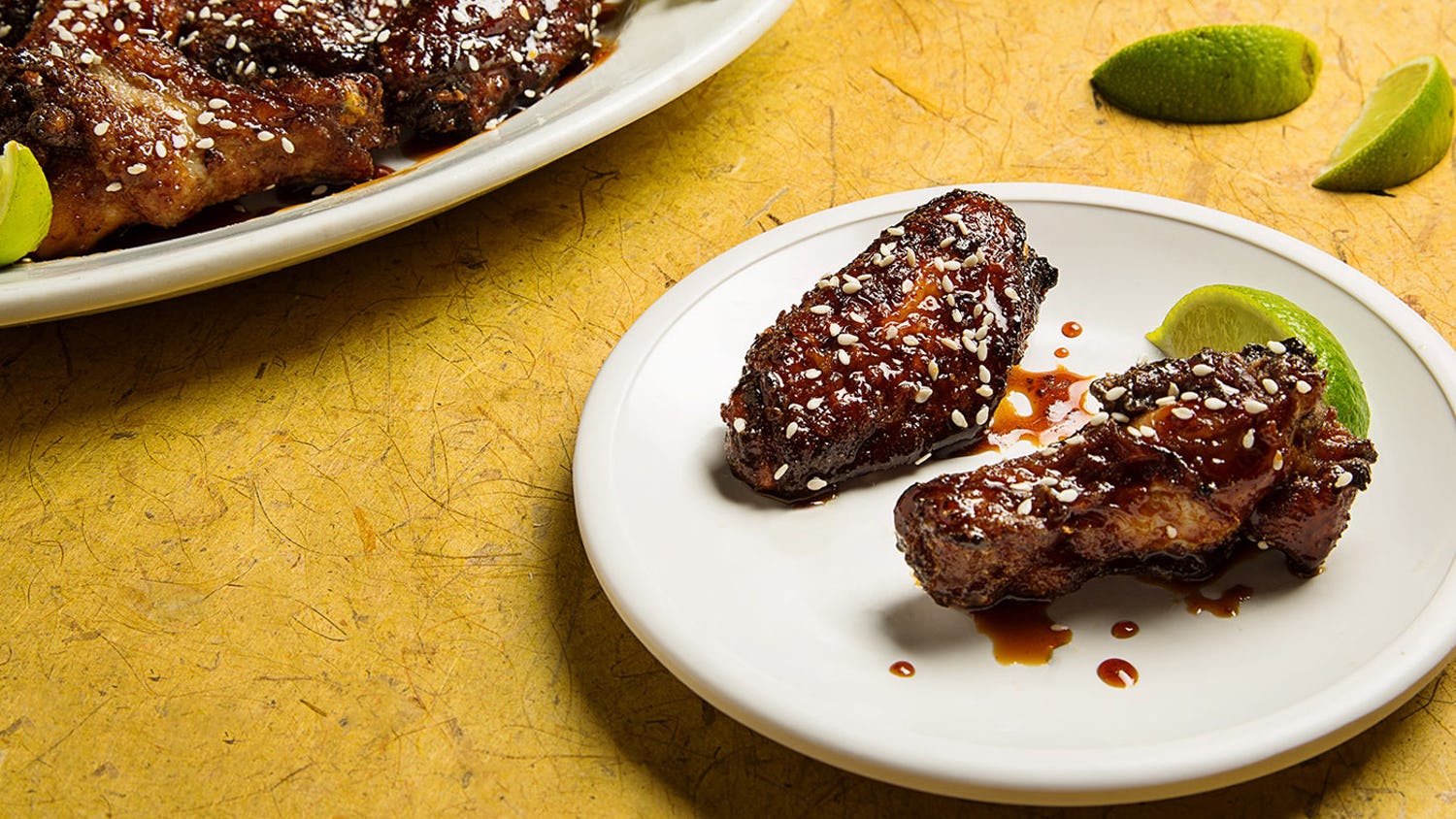 For this version of everyone's favorite messy finger food, we ditch the buffalo sauce and bring in Asian flavors. Here, a rich, thick caramel made of honey and soy sauce coats ginger- and mirin-marinated chicken wings. With their perfect balance of sweetness and saltiness, these chicken wings are dangerously addictive.
Prep Time
    •    Prep time: 15 minutes, plus marinating time
    •    Cook time: 25 minutes

    •    Yield: Serves 4-6

Ingredients
    •    ½ cup honey
    •    1 cup rice flour
    •    2 tbsps sesame oil
    •    canola oil, for frying
    •    1 cup mirin, divided
    •    8 garlic cloves, minced
    •    lime wedges, for serving
    •    1 cup soy sauce, divided
    •    toasted sesame seeds, for garnish
    •    one 4-inch piece ginger, peeled and minced
    •    3 pounds chicken wings, separated at the joint, wings tips removed

Method
In a large bowl, toss together the chicken wings, ¼ cup of the mirin, ¼ cup of the soy sauce, the sesame oil, garlic and ginger. Cover and chill for 1 hour.


In a medium saucepan, combine the remaining ¾ cup of mirin and ¾ cup of soy sauce with the honey, and bring to a boil. Reduce the heat to a simmer and cook until reduced by half, 20 minutes. Set aside and keep warm.


In a 6-quart pot or Dutch oven, heat 2 inches of canola oil over medium heat until a deep-fry thermometer reads 325°. Line a plate with paper towels and set aside. Right before frying, drain the wings and toss with the rice flour, shaking off any excess. Working in batches, fry the wings until golden brown and crisp, 5 to 6 minutes. Transfer the wings to the paper towel-lined plate to drain.



In a large bowl, add the reserved sauce and the wings, and toss to coat. Transfer to a platter and sprinkle with toasted sesame seeds. Serve with lime wedges.


This great family recipe is thanks to Tasting Table Recipes at https://www.tastingtable.com/cook/recipes/soy-glazed-asian-chicken-wings-fried-appetizer