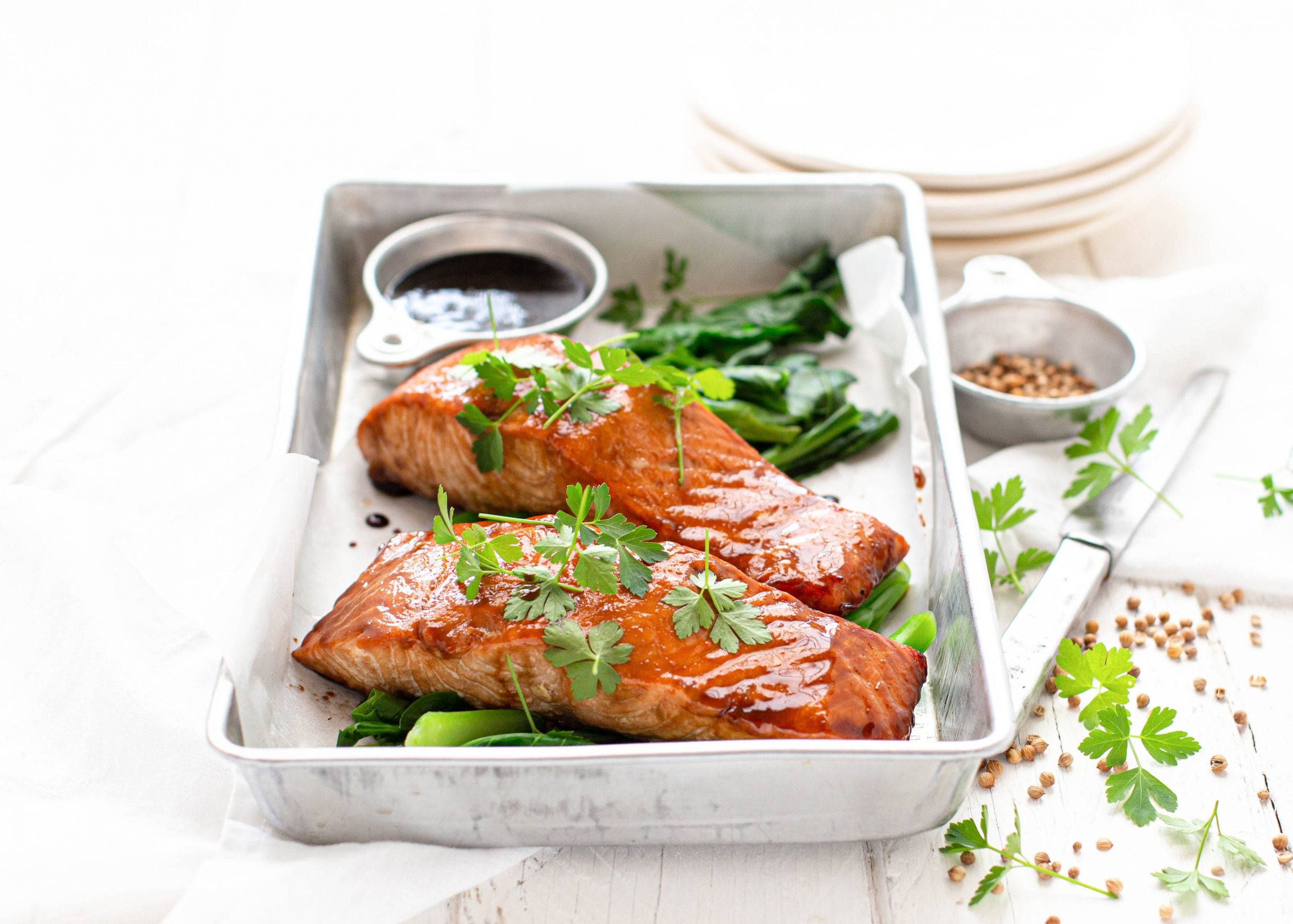 Soy Glazed Baked Huon Salmon With Chinese Broccoli
Prep Time
    •    Prep time: 30 minutes

    •    Cook time: 20 minutes
    •    Yield: Serves 4
Ingredients
    •    1 tbsp lime juice
    •    1 cup soy sauce
    •    1 tbsp sesame oil
    •    1 tsp ginger, grated
    •    1/4 cup caster sugar
    •    1 tsp ground coriander
    •    2 cloves garlic, crushed
    •    2 bunches chinese broccoli
    •    coriander leaves, to garnish
    •    4 Huon Salmon fillet skin on
Method
Preheat oven to 200℃.


To make the soy glaze, combine the soy, caster sugar, ground coriander, garlic, ginger and sesame oil in a small saucepan. Allow to come to the boil, reduce heat and simmer for 5 minutes.


Place the Atlantic salmon fillets on a tray line with baking paper, using a pastry brush, brush half of the marinade onto the fillets and bake in the oven for 12 minutes or until the fish has browned and is almost cooked through (baste a couple of times while cooking) Stir the lime juice into the remaining marinade and set aside.


While the fish is cooking, steam the Chinese broccoli.


To Serve, place the steamed broccoli onto a serving platter (or individual plates) top with the baked Atlantic salmon fillets, sprinkle with the coriander leaves and serve with the extra marinade.


This great family recipe is thanks to Huon Aqua Recipes at https://www.huonaqua.com.au/recipes/soy-glazed-baked-huon-salmon-with-chinese-broccoli/