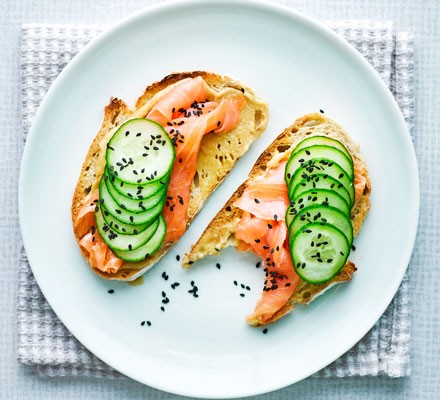 Smoked Salmon, Miso & Sesame Tartine
A tasty brunch option or speedy lunch, omega-3 rich smoked salmon and white miso are a match made in heaven.
Prep Time
    •    Prep time: 5 minutes
    •    Cook time: 5 minutes
    •    Yield: Serves 2

Ingredients
    •    2 tbsps tahini
    •    2 tbsps white miso
    •    100g pack smoked salmon
    •    1/2 tbsp black sesame seeds
    •    1/2 cucumber, cut into thin rounds
    •    4 slices of your favourite bread, I used sourdough)

Method: Mix the miso with the tahini and 1 tablespoon water in a bowl to make a spreadable paste. Toast the bread, then top with the miso paste, salmon, cucumber and black sesame seeds.
This great family recipe is thanks to BBC Good Food at https://www.bbcgoodfood.com/recipes/smoked-salmon-miso-sesame