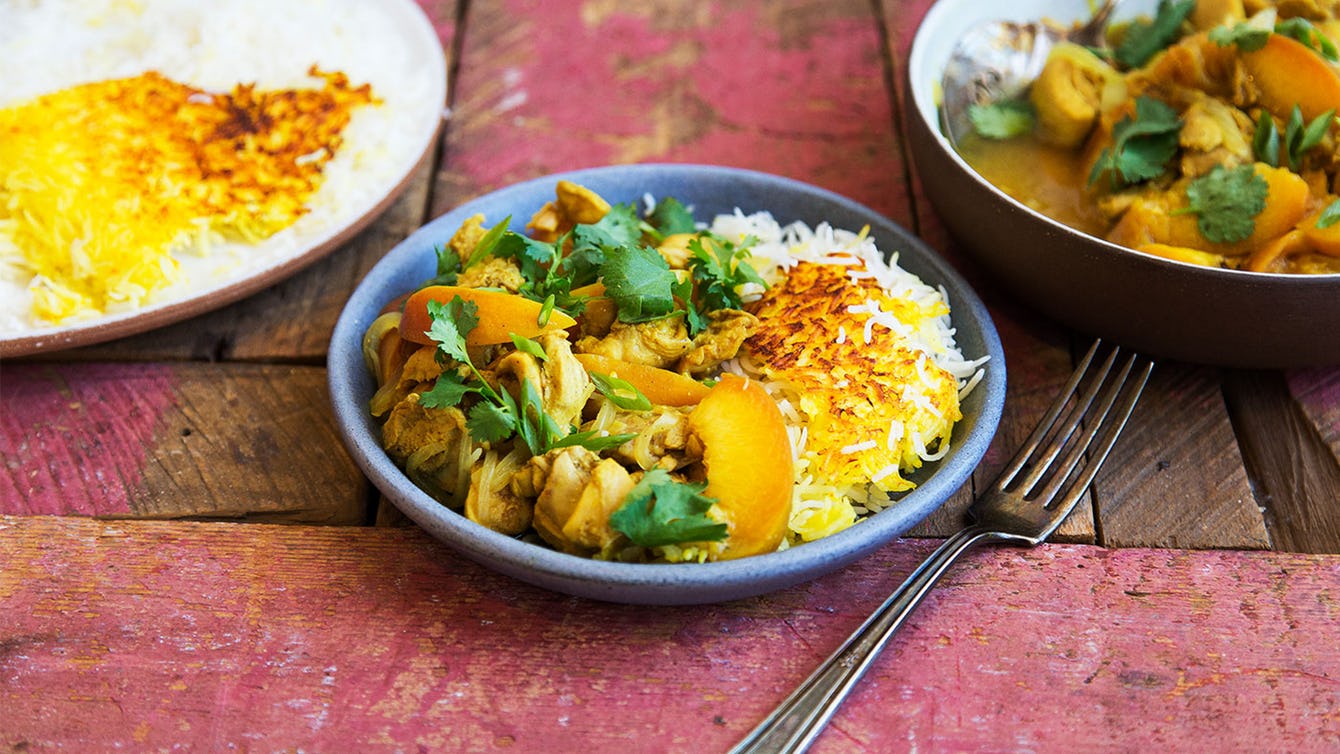 Slow Cooker Persian Peach and Chicken Stew
This recipe really is foolproof, but you do have to pick ripe peaches to provide the sweetness in the dish. And because the stew is so easy, we encourage you to get creative with your rice. Amp it up with Persian flavors like saffron for the perfect accompaniment to your khoresh.
Prep Time
    •    Prep time: 15 minutes
    •    Cook time: 2 hours & 30 minutes

    •    Yield: Serves 6-8


Ingredients
    •    2 tbsps olive oil
    •    Rice, for serving
    •    ¼ cup lime juice
    •    Kosher salt, to taste
    •    ½ tsp ground cumin
    •    1 tsp ground turmeric
    •    1 tsp ground coriander
    •    3 garlic cloves, minced
    •    4 scallions, thinly sliced
    •    ¼ tsp ground cinnamom
    •    ½ tsp ground cardamom
    •    1 yellow onion, finely chopped
    •    2 tbsps pomegranate molasses
    •    3 pounds boneless, skinless chicken thighs, cut into 2 inch pieces
    •    2 pounds (5 medium) yellow peachers, pitted and cut into eighths


Method: Place all of the ingredients, except the peachers, into a slow cooker and mix to incorporate. Cook on high for 2 hours. Add the peachers and cook until the chicken is fully cooked and the peachers are tender, 30 minutes more. Season with salt, then serve with rice.


This great family recipe is thanks to Tasting Table Recipes at https://www.tastingtable.com/cook/recipes/slow-cooker-peach-chicken-stew-recipe-khoresh-summer-fruit