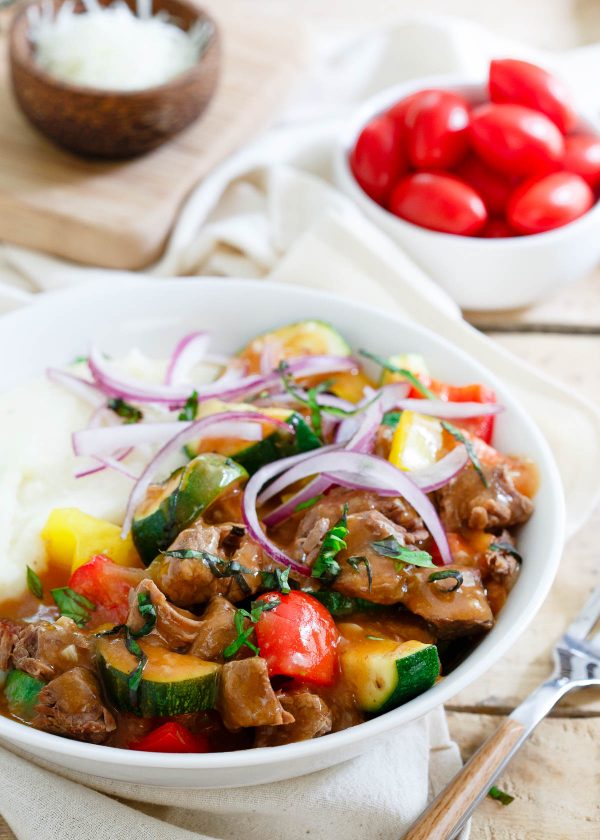 This beef stew is made in the slow cooker so the house stays cool. Enjoy this classic dish with vegetable twist!
Prep Time
    •    Prep time: 15 minutes

    •    Cook time: 6 hours
    •    Yield: Serves 4
Ingredients
    •    1 bay leaf
    •    2 tbsps flour
    •    salt and pepper
    •    2 cups beef broth
    •    2 tbsps tomato paste
    •    1 shallot, thinly sliced
    •    2-3 cloves garlic, minced
    •    2 small zucchini, chopped
    •    1 tbsp extra virgin olive oil
    •    1 red bell pepper, chopped
    •    1 yellow bell pepper, chopped
    •    Chopped fresh basil for garnish
    •    grated parmesan cheese for garnish
    •    1 1/4-1/2 pounds stew beef, cut into chunks
Method
Place olive oil in a large pot or Dutch oven over medium-high heat on the stove-top.


Toss beef with flour, salt and pepper in a small bowl until all the pieces all equally coated.


Add beef to the hot pot and brown on all sides, about 5-7 minutes.


Transfer beef and all it's juices to the slow cooker.
Add garlic, bay leaf, shallots, tomato paste and broth to the slow cooker. Stir to combine and set for 6 hours on low heat.
Add zucchini and peppers 30 minutes before timer is up (after 5.5 hours of cooking), stir gently to combine and continue cooking with lid on for remaining 30 minutes.


Serve with grain of choice
NOTES: If you want a thicker sauce, add a cornstarch slurry (1 tablespoon cornstarch mixed with 1 tablespoon water) to the slow cooker when you add the vegetables.


This great family recipe is thanks to Yummly Recipes at https://www.yummly.com/recipe/Slow-Cooker-Summer-Beef-Stew-1828441#directions