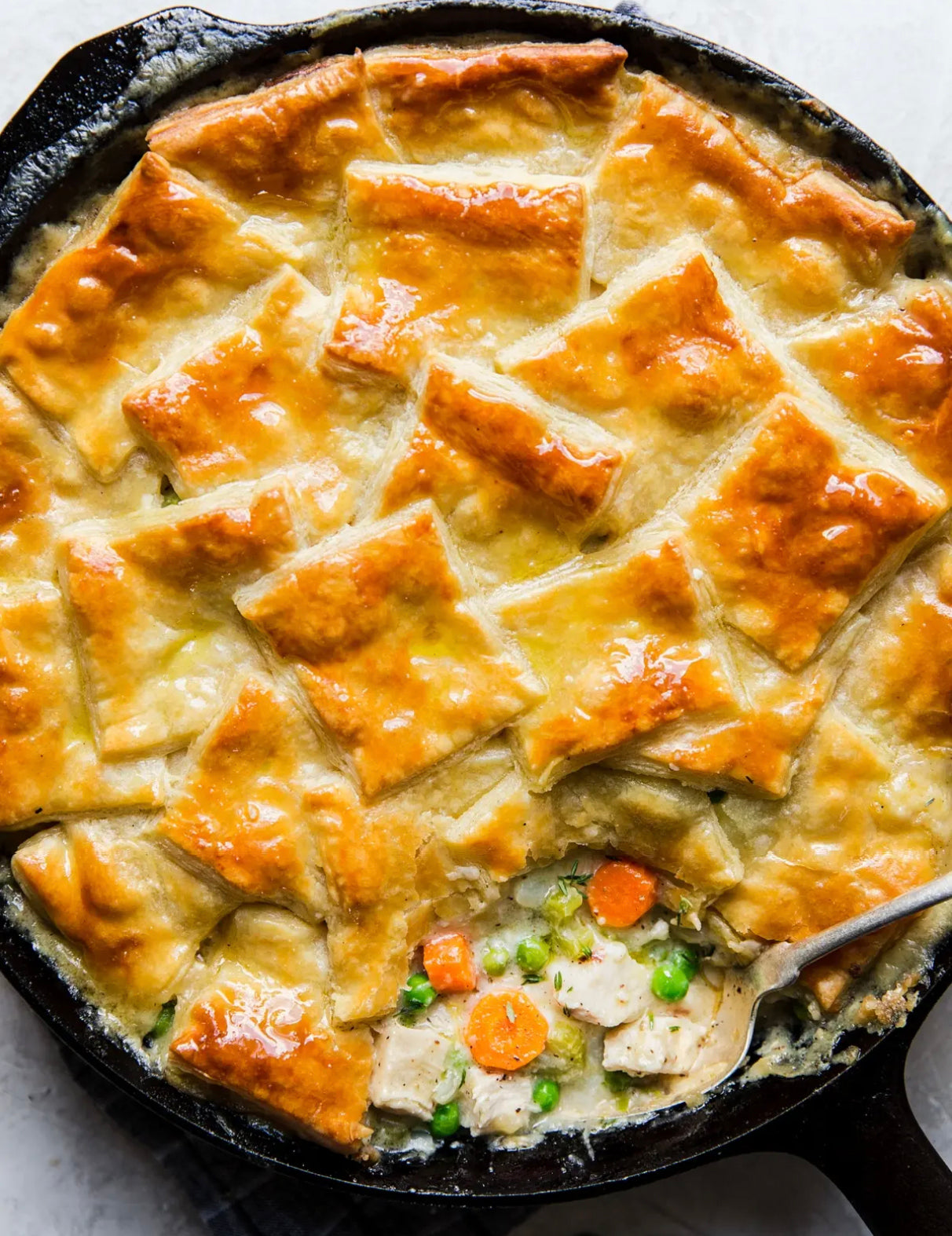 When does chicken pot pie qualify as a quick and easy, 30 minute dinner? When it's skillet chicken pot pie, and you make use of a few handy shortcuts.
Prep Time
    •    Prep time: 15 minutes
    •    Cook time: 45 minutes
    •    Yield: Serves 8

Ingredients
    •    1 tsp salt
    •    1/2 cup flour
    •    1/2 cup butter
    •    1 cup whole milk
    •    1/2 tsp celery seed
    •    1 tsp garlic powder
    •    2 cups peas, frozen
    •    1/2 tsp black pepper
    •    2 cups chicken stock
    •    1 cup onion, chopped
    •    1 egg (for pastry wash)
    •    1 cup celery, 1/4 inch sliced
    •    2 cups carrots, 1/4 inch sliced
    •    1 tsp fresh thyme, minced (Optional)
    •    1 package frozen puff pastry, slightly thawed
    •    4 cups cooked chicken (3 chicken breasts, pre cooked or rotisserie)

Method
Heat oven to 425°F.
Melt the butter in a 12" inch cast iron (or other oven proof) skillet over medium heat. Add the onion, celery, carrots to the butter and sauté for 5 minutes, until the onions are tender and translucent.
Add the flour, salt, pepper, celery seed, garlic powder and thyme to the butter and vegetables creating a thick paste. Sauté for 2 minutes.
Slowly add the milk. Once the milk is fully incorporated, slowly add the chicken stock. Simmer, whisking continuously until mixture has slightly thickened.
Add the peas and chicken to the sauce.
Roll out one pastry sheet into a 16-inch square on a lightly floured surface. Cut into 26 (3-inch) squares. Place the squares, slightly overlapping on top of the chicken mixture.
In a small bowl, whisk the egg with 1 tbsp water. Brush the egg wash over the puff pastry. Place in the oven for 25 minutes until pastry is golden brown and filling is bubbling. If it is browning too quickly, cover with foil after it gets as dark as you'd like.
This great family recipe is thanks to The Modern Proper at https://themodernproper.com/skillet-chicken-pot-pie