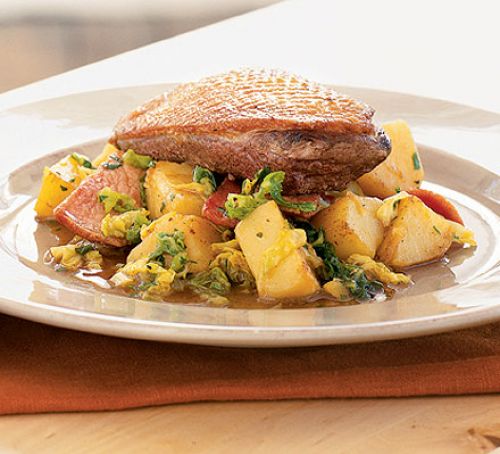 Simmered Duck with Cabbage & Potato
Treat yourself to Barney Desmazery's one-pan solo supper - with the extra bonus of next to no washing up
Prep Time

    •    Prep and cook time: Ready in a relaxed 50-60 minutes
    •    Yield: Serves 1
Ingredients
    •    1 duck breast, about 200g/8oz
    •    2 rashers smoked back bacon, each chopped into about 6 pieces
    •    1 medium waxy potato such as Desirée or Maris Piper, peeled and cut into about 8 chunks
    •    ¼ Savoy cabbage, roughly shredded (core removed)
    •    150ml chicken stock
    •    large pinch chopped parsley
    •    small pinch chopped garlic (optional)
Method
Heat a small saucepan (one with a lid) on a medium heat. Season the breast, lay it skin side down in the pan and reduce the heat to the lowest it will go. Leave to sizzle for about 15 minutes, uncovered, until the skin is golden and crisp and has rendered most of its fat. Don't shake the pan or move the duck.
Remove the duck (the meat side will be raw). Pour out just over half the fat (save it for frying vegetables another time) and turn up the heat slightly. Add the bacon and fry for 2-3 minutes until starting to crisp. Add the potato, cover and cook for 10 minutes, stirring occasionally, until the potato looks sticky and has just started to brown at the edges.
Tip in the cabbage and stir until glossy, then pour in the stock. Nestle the duck, skin side up, among the cabbage and potato and cover the pan. Simmer gently for 10 minutes until the veg is tender and the duck cooked. Remove the duck from the pan and stir in the parsley and garlic. To serve, spoon the veg, bacon and juice on to a plate and sit the duck on top. Pour a glass of wine and enjoy the flavours of autumn.


This great family recipe is thanks to BBC Goodfood Recipes at https://www.bbcgoodfood.com/recipes/1311/simmered-duck-with-cabbage-and-potato