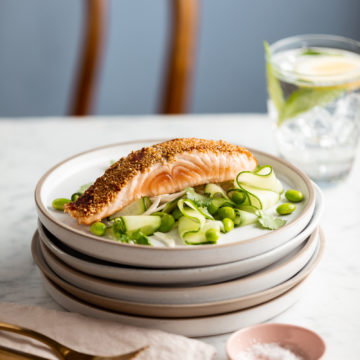 A quick and easy midweek meal for two. A perfect pan-fried salmon portion atop a delightfully zesty salad. What's not to love?
Prep Time
    •    Prep time: 10 minutes
    •    Cook time: 10 minutes
    •    Yield: Serves 2

Ingredients
    •    wasabi
    •    juice 1 lime
    •    1 tbsp olive oil
    •    1 tsp wasabi paste
    •    small bunch coriander
    •    1/2 cup sesame seeds
    •    1 pack of salmon portions
    •    1 1/2 cups edamame beans
    •    2 cups finely sliced cabbage
    •    1 cucumber, peeled into ribbons (discard seeds)

Method
Roll salmon filets in sesame seeds and set aside.
Mix all salad ingredients except for coriander together add pinch of salt to taste.
When ready to serve add coriander at the last minute as it will droop if left with the dressing.
Add a splash of oil to a cold frypan. Add salmon and turn on heat to high. Cook for approx. 4 minutes one side, 2 minutes other side.
This great family recipe is thanks to Huon Aqua at https://www.huonaqua.com.au/recipes/sesame-crusted-salmon/