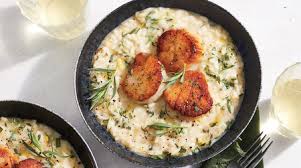 Fear not, for you, too, can make creamy risotto at home (we recommend the Italian short-grain Arborio rice). When cooking the scallops, pat dry beforehand, add to a smoking hot cast-iron pan, and avoid flipping until the flesh is opaque and caramelized, tender perfection is achieved.

Prep Time
    •    Prep time: 5 minutes
    •    Cook time: 35 minutes
    •    Yield: Serves 4
Ingredients
    •    4 ½ cups chicken stock
    •    ¼ cup olive oil, divided
    •    2 tbsps unsalted butter, divided
    •    12 ounces leeks, white and light green parts only, diced (about 2½ cups)
    •    2 garlic cloves, minced
    •    1 ½ cups uncooked Arborio rice
    •    3 thyme sprigs
    •    ¾ cup dry white wine
    •    2 tsps kosher salt, divided
    •    3 ounces Parmigiano-Reggiano cheese, grated (about ¾ cup)
    •    1 ½ tsps lemon zest plus 1 tsp. fresh juice (from 1 lemon)
    •    12 large sea scallops, patted dry, at room temperature (about 1 lb.)
    •    2 tsps chopped fresh tarragon
Method
Heat chicken stock in a saucepan over medium-high until steaming but not boiling; reduce heat to low to keep warm.
Heat 2 tablespoons of the oil and 1 tablespoon of the butter in a medium saucepan over medium-high. Add leeks and garlic; cook, stirring often, until tender, 5 to 7 minutes. Stir in rice and thyme; cook, stirring until coated, 1 to 2 minutes. Add wine; cook, stirring constantly, until absorbed, about 1 minute. Add 2 cups of the warm stock and 1 teaspoon of the salt to rice mixture. Cook, stirring often, with a wooden spoon or rubber spatula, until almost absorbed, about 10 minutes. Continue adding remaining warm stock, about 1 cup at a time, stirring constantly until most of the liquid has absorbed between additions, about 25 minutes total. Rice should be tender and saucy. Remove and discard thyme.
Remove from heat, and stir in Parmigiano- Reggiano, lemon zest, lemon juice, and remaining 1 tablespoon butter. Set aside.
Heat remaining 2 tablespoons oil in a large cast-iron or stainless steel skillet over high. Sprinkle scallops with remaining 1 teaspoon salt, and place in hot oil, leaving space between each one. Using a spatula, press each scallop lightly to ensure good contact with skillet. Cook scallops until well browned, 1 to 2 minutes on each side. Transfer to a plate.
Stir fresh tarragon into risotto; spoon into 4 shallow bowls. Top with 3 scallops each, and serve immediately.


This great family recipe is thanks to Coastal-Living Recipes at https://www.coastalliving.com/recipe/sea-scallop-risotto