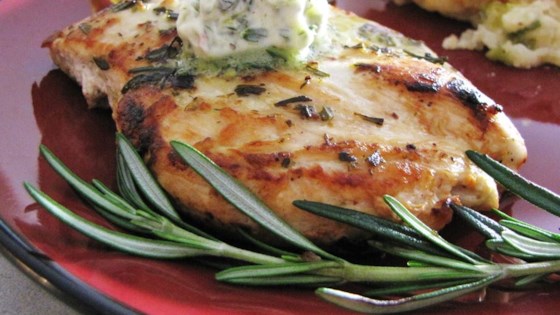 Rosemary Lemon Grilled Chicken
This simple, sensational marinade and sauce for grilled chicken features lemon, garlic, rosemary, and butter. Separate the marinade into thirds: 1/3 for marinating, 1/3 for basting, 1/3 for topping.
Prep Time

    •    Prep time: 20 minutes
    •    Cook time: 3 hours
    •    Yield: Serves 6
Ingredients
    •    1/2 cup butter
    •    1/2 cup fresh rosemary
    •    3 cloves garlic
    •    1 lemon, zested
    •    1/4 cup fresh lemon juice
    •    6 (6 ounce) skinless, boneless chicken breast halves
    •    salt and pepper to taste
Method
In a food processor, thoroughly blend together the butter, rosemary, garlic, lemon zest, and lemon juice. Pour 1/3 of blended mixture into a small bowl for marinade. Cover remaining mixture, and set aside.

Lightly season chicken breasts with salt and pepper. Rub chicken breasts with the marinade mixture. Place chicken breasts on a platter, cover, and refrigerate 3 hours.

Preheat an outdoor grill for high heat and lightly oil grate. Pour half of the reserved rosemary and lemon mixture into a bowl for basting. Cover remaining mixture, and set aside for topping cooked chicken.

Grill chicken breasts 4 minutes on each side, basting with rosemary and lemon basting mixture. Remove chicken breasts from grill, and top with small scoops of the remaining topping mixture.


This great family recipe is thanks to allrecipes at http://allrecipes.com/recipe/81064/rosemary-lemon-grilled-chicken/?internalSource=hn_carousel%2001_Rosemary%20Lemon%20Grilled%20Chicken&referringId=659&referringContentType=recipe%20hub&referringPosition=carousel%2001