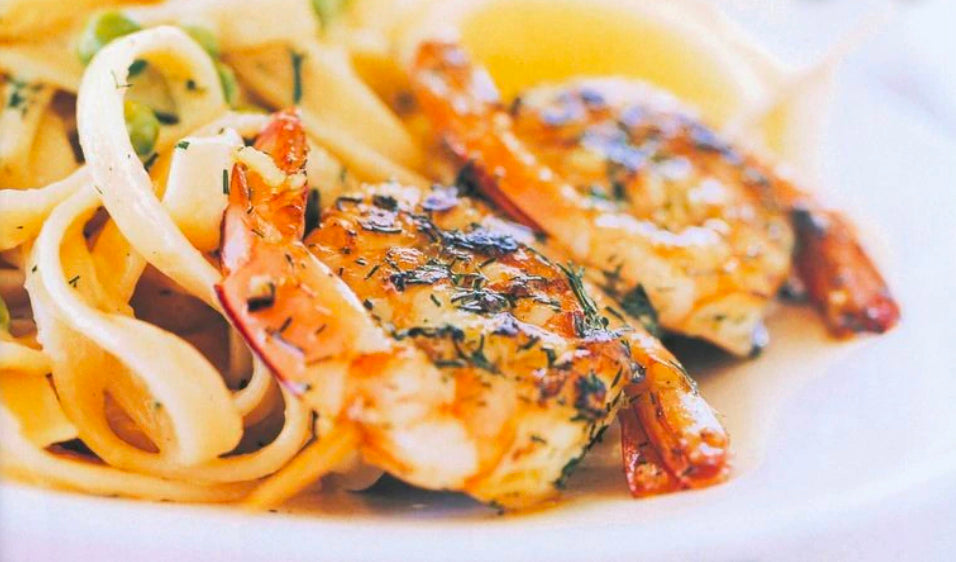 Having a dinner party? This dish is simple, but very impressive, and just perfect.
Prep Time
    •    Prep time: 3 hours

    •    Cook time: 25 minutes
    •    Yield: Serves 4
Ingredients
    •    450g linguine
    •    3 tbsps olive oil
    •    300ml thin cream
    •    150g frozen peas
    •    2 tsps lemon zest
    •    85g parmesan, grated
    •    3 garlic cloves, crushed
    •    lemon wedges, to serve
    •    3 tbsps finely chopped dill
    •    350g peeled green prawns, tails on
Method
Soak the skewers in cold water for 2 hours to prevent them burning.


Place two-thirds of the garlic, the oil and 2 tablespoons dill in a glass bowl. Add the prawns and set aside for 30 minutes to marinate.


Meanwhile, bring a large pan of salted water to the boil, add the linguine and cook following packet directions until al dente, adding peas for last 2 minutes of cooking. Drain.


Place the cream, lemon zest and remaining garlic in a saucepan over low heat and simmer, stirring, for 5 minutes.


Preheat a grill or barbecue to high. Thread 4 prawns on each skewer and grill for 2-3 minutes each side until cooked through.


Add the cream mixture, parmesan and remaining dill to the linguine and serve with the prawn skewers and lemon wedges.


This great family recipe is thanks to delicious Recipes at https://www.delicious.com.au/recipes/prawns-lemon-pasta/7328b66c-b05c-4d33-b962-ace651b9433c?current_section=recipes&r=recipes/collections/prawnrecipes