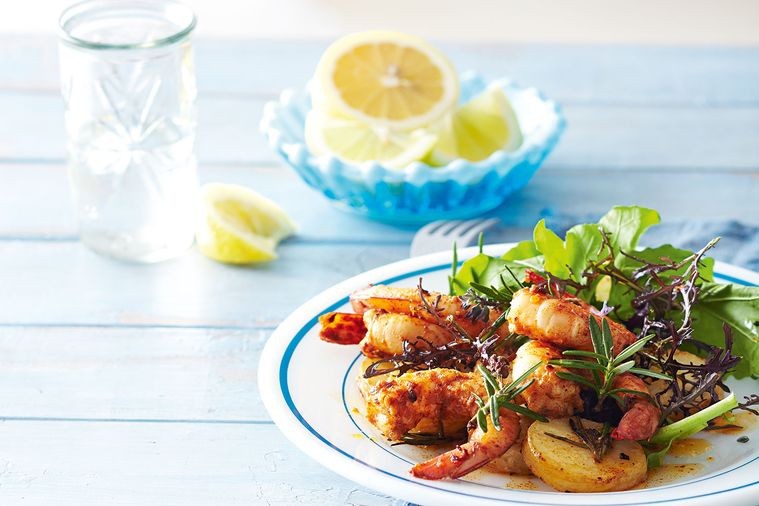 Piri Piri Prawns and Rosemary Potatoes
These Portuguese inspired prawns and rosemary potatoes are perfect for entertaining and will leave your guests salivating before they even take a bite.
Prep Time
    •    Prep time: 20 minutes
    •    Cook time: 40 minutes
    •    Yield: Serves 4

Ingredients
    •    2 tbsps olive oil
    •    1 tsp sea salt flakes
    •    1/2 tsp white pepper
    •    1/3 cup vegetable oil
    •    2 tsps smokey paprika
    •    1 tsp piri piri seasoning
    •    3 garlic cloves, crushed
    •    2 tbsps rosemary sprigs
    •    2 tbsps white wine vinegar
    •    650g small washed potatoes, sliced
    •    1kg green prawns, peeled, tails intact
    •    green salad and lemon wedges, to serve
    •    1 lemon, rind finely grated and 1 tbsp lemon juice

Method
Combine oil, vinegar, garlic, paprika, piri piri, salt and pepper in a large ceramic bowl. Add prawns and toss to coat. Cover and refrigerate for 30 minutes.
Combine potatoes, oil, lemon rind, juice and rosemary in a bowl. Season with salt and pepper. Toss to combine. Transfer potato mixture onto a large sheet of foil in a single layer. Fold foil over and seal edges well. Slide onto a tray.
Preheat barbecue hotplate to medium high. Slide foil parcel onto barbecue, cover with lid and cook for 15 minutes. Turn and cook for a further 15 minutes or until potatoes are tender.
Add prawns to barbecue plate and cook for 2 minutes each side, tossing frequently, until golden and cooked through. Serve prawns with potatoes, green salad and lemon wedges.
This great family recipe is thanks to delicious at https://www.delicious.com.au/recipes/piri-piri-prawns-rosemary-potatoes/71b6ec9e-f2c4-408c-9664-c3922b50af2d?r=recipes/group/sx8icie0