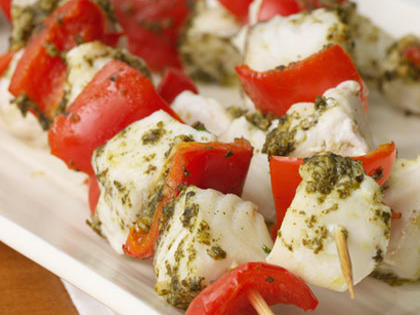 Make this fresh, colorful 20-minute meal with just 4 simple ingredients.
Prep Time

    •    Prep time: 5 minutes
    •    Cook time: 25 minutes
    •    Yield: Serves 4
Ingredients
    •   1 1/2 pounds halibut, cut into 1-inch chunks
    •   1 large red bell pepper, cut into 1-inch chunks
    •   3 tablespoons prepared basil pesto
    •   2 tablespoons white wine vinegar
    •   1/2 teaspoon salt
    •   Cooking spray
Method
Preheat broiler.
Place fish and bell pepper in a shallow dish. Drizzle pesto and vinegar over fish mixture; toss to coat. Let fish mixture stand 5 minutes.
Thread fish and pepper alternately onto each of 4 (12-inch) skewers; sprinkle evenly with salt. Place skewers on a jelly-roll pan coated with cooking spray. Broil for 8 minutes or until desired degree of doneness, turning once.


This great family recipe is thanks to myrecipes Recipes at https://www.myrecipes.com/recipe/pesto-halibut-kebabs