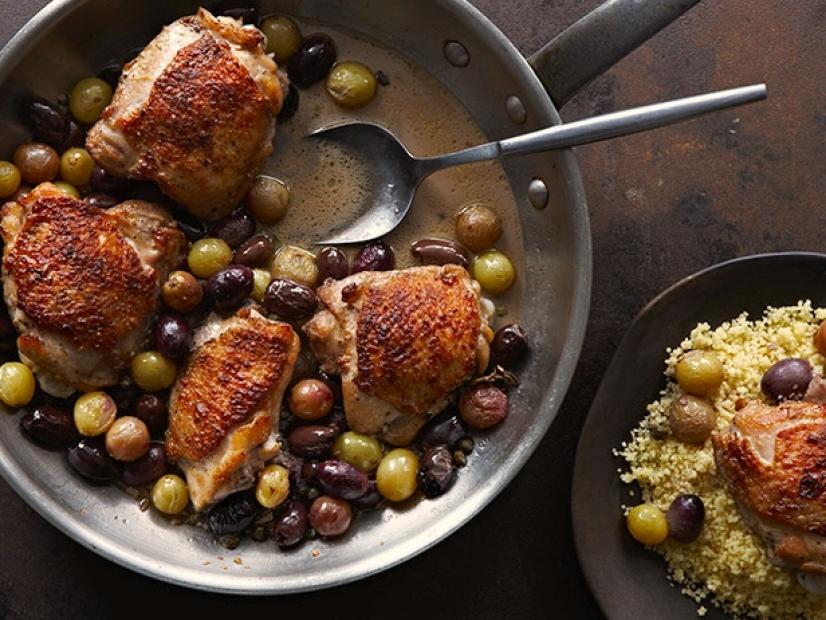 Pan-Roasted Chicken Thighs with Grapes and Olives
The combo of grapes with chicken thighs and lots of salty ingredients hits the perfect salty of this recipe.
Prep Time
    •    Prep time: 15 minutes
    •    Cook time: 25 minutes
    •    Yield: Serves 4

Ingredients
    •    2 tbsps canola oil
    •    8 x chicken thighs
    •    1 cup dry white wine
    •    3 clove garlic, minced
    •    2 sprigs fresh oregano
    •    2 tbsps unsalted butter
    •    1 cup pitted kalamata olives
    •    2 tbsps capers in brine, drained
    •    2 cups seedless red and or green grapes
    •    kosher salt and freshly ground black pepper
    •    2 cups quick cooking couscous, cooked accounting to package, warm

Method
Sprinkle the chicken liberally with salt and pepper. Heat the canola oil in a large, ovenproof high-sided skillet over medium-high heat until it shimmers. Sear the chicken, skin-side down, until golden brown, 3 to 4 minutes. Then flip and brown the other side, 3 to 4 minutes. You may need to do this in two batches to avoid crowding the skillet. Transfer the browned chicken and any juices to a baking sheet or large plate.
Lower the heat to medium and add the garlic, 1 cup of the grapes, the olives, capers, oregano, wine and 1/2 cup water. Stir to combine and cook until the liquid has reduced by half, 6 to 8 minutes. Stir in the butter. Add the chicken and any juices back to the skillet, skin-side-up. Sprinkle the remaining grapes around the chicken. Continue cooking over medium heat until the internal temperature reaches 160 degrees F, 6 to 8 minutes.
Set the oven to broil with a rack set about 4 inches from the broiler.
Place the skillet underneath the broiler to crisp the chicken skin, about 2 minutes. Watch carefully to avoid burning.
To serve, divide the warm couscous among 4 plates and top each plate with 2 of the chicken thighs and a large spoonful of the sauce.
This great family recipe is thanks to Food Network at https://www.foodnetwork.com/recipes/food-network-kitchen/pan-roasted-chicken-thighs-with-grapes-and-olives-2269269