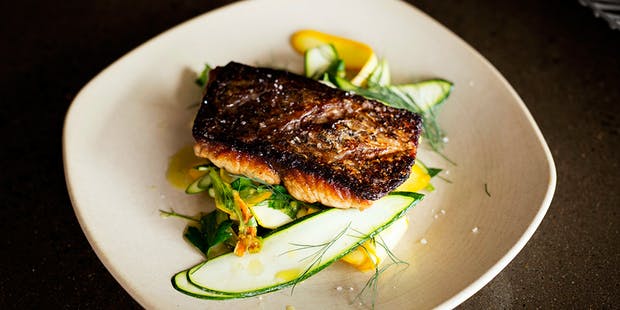 A delicious, fresh barramundi recipe from the owner of Bondi Seafood and Chiswick, Matt Moran.

Prep Time
    •    Prep time: 15 minutes
    •    Cook time: 10 minutes
    •    Yield: Serves 4

Ingredients
    •   1 green zucchini
    •   2 yellow zucchini or squash
    •   ¼ bunch mint leaves (reserve some for garnish)
    •   ¼ bunch parsley leaves
    •   4 baby zucchini flowers
Dressing:

    •   ½ clove garlic, thinly sliced
    •   zest and juice of 1 lemon (reserve some for garnish)
    •   100 ml olive oil
    •   4 x 180g ocean barramundi fillets, skin on (I use Cone Bay barramundi)
    •   1 tbsp olive oil
    •   sea salt flakes and pepper
    •   1 tbsp vegetable or grapeseed oil for pan frying
    •   80g butter, diced
    •   ¼ bunch dill, picked into sprigs

Method
Using a mandolin, shave the zucchini (or squash) into long thin strips, and place in a bowl with the mint and parsley, garlic, lemon zest, juice and oil. Set aside un-tossed.

Pat the fillets dry with a paper towel and, using a sharp knife, lightly score the skin enough to go through the skin but not cut into the flesh.

In a heavy-based frying pan on a medium to high heat, add a tablespoon of grapeseed or vegetable oil and, after a few seconds, place the fillets in the pan, skin-side down. Use a fish slice or spatula to press the fillets at to the pan to avoid the fillets curling. After 2–3 minutes, or when the skin is crisp and golden, season with salt and flip the fillets. Add butter, as it melts and browns, baste the fish constantly and cook the other side for a further 2 minutes or until just cooked. Squeeze over lemon juice and swirl to combine. Remove the fillets from the pan and set aside.

Toss the zucchini and season to taste with salt and freshly ground black pepper. Arrange the salad on the four plates with the fish fillets, and garnish with the dill sprigs and a squeeze of fresh lemon.


This great family recipe is thanks to Lifestyle Food Recipes at https://www.lifestylefood.com.au/recipes/26402/pan-fried-barramundi