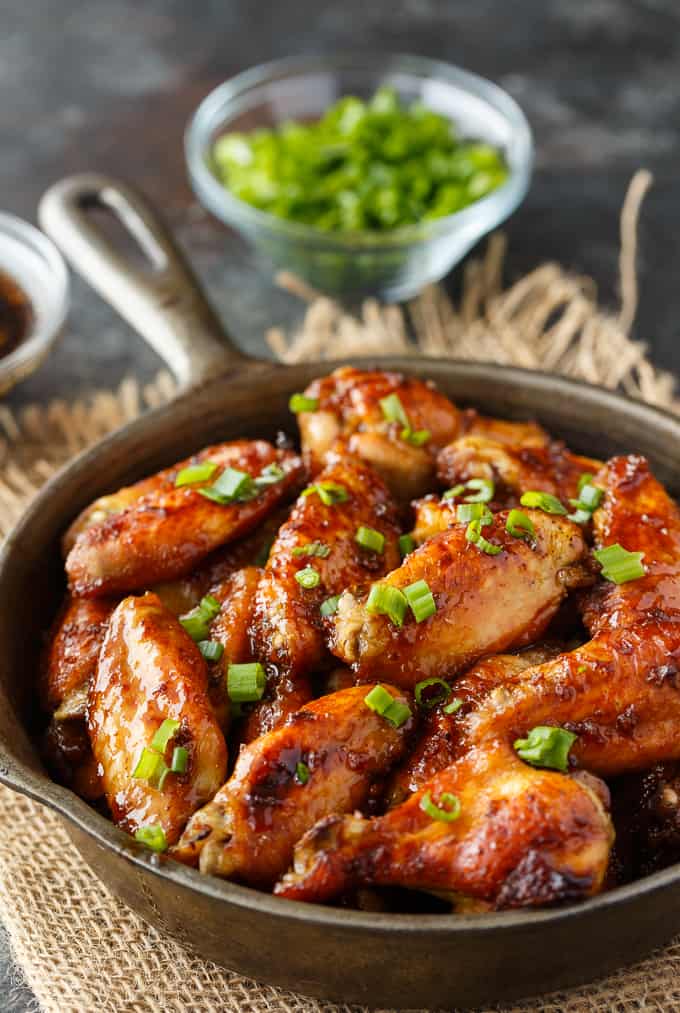 These Oven Baked Chicken Wings are the BEST wing recipe ever! Juicy chicken wings are oven baked in a flavorful honey garlic sauce. Once you taste one wing, you cannot stop eating them.
Prep Time
    •    Prep time: 5 minutes
    •    Cook time: 50 minutes
    •    Yield: Serves 50
Ingredients
    •    1 cup honey
    •    salt and pepper
    •    1/2 cup soy sauce
    •    3 lbs chicken wings
    •    2 tbsps vegetable oil
    •    4 cloves garlic, minced
    •    green onions, for garnish, optional
Method
Preheat oven to 350F.
Place a piece of aluminum foil on a baking sheet and grease with cooking spray. Spread chicken wings in a single layer on baking sheet. Season with salt and pepper.
In a bowl, stir together vegetable oil, soy sauce, bbq sauce, honey and garlic. Pour over chicken wings to coat them thoroughly.
Bake for 50 minutes or until fully cooked and sauce has caramelized. Sprinkle with green onions, if desired.


This great family recipe is thanks to Yummly Recipes at https://www.yummly.com/recipe/Oven-Baked-Chicken-Wings-2611547#directions