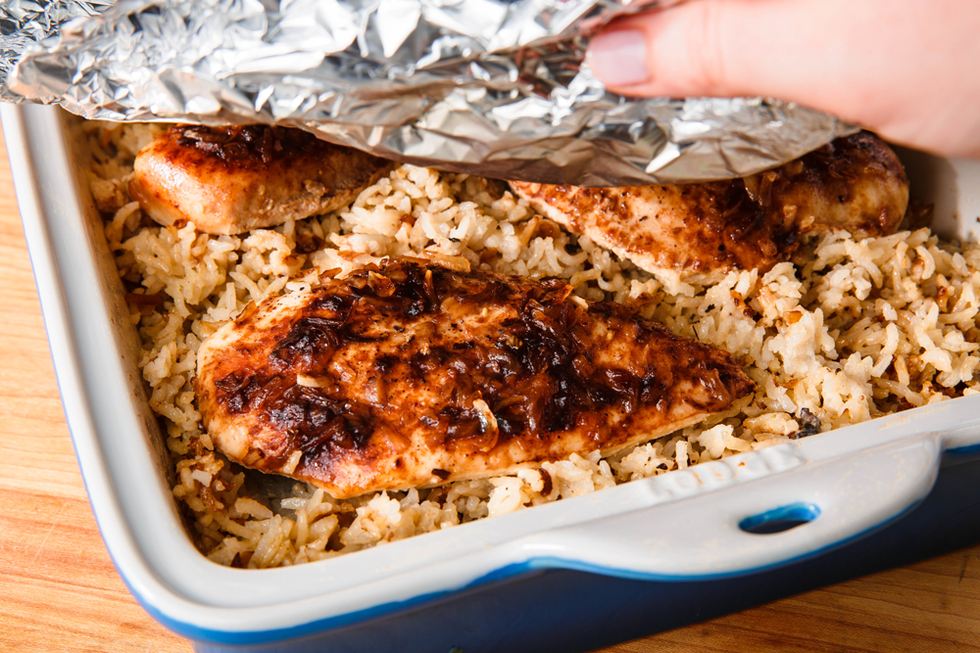 Don't let the title tempt you into peeking at this chicken while it's cooking. Covering it while baking let's it capture all of the steam and cook the rice and chicken together. It's a quick and easy dinner that will keep you coming back for more. 
Looking for a good chicken thigh recipe? These Garlic Butter Baked Thighs are AMAZING.
Prep Time
    •    Prep time: 10 minutes
    •    Cook time: 1 hour and 20 minutes
    •    Yield: Serves 4

Ingredients
    •   Cooking spray
    •   2 c. long grain rice
    •   1 (10.5-oz.) can cream of chicken soup
    •   (10.5-oz.) can cream of mushroom soup
    •   1 c. water
    •   1 tsp. dried oregano
    •   4 boneless skinless chicken breasts
    •   Kosher salt
    •   Freshly ground black pepper
    •   1 (1-oz.) package onion soup mix
    •   Freshly chopped parsley, for garnish
Method
Preheat oven to 350° and grease a 9"-x-13" baking pan with cooking spray. In a large bowl mix together rice, soups, water, and oregano then pour into baking dish.

Season chicken with salt and pepper then place on top of rice mixture. Sprinkle onion soup mix over chicken then cover with aluminum foil and bake 1 hour and 15minutes, or until chicken is cooked through and rice is tender.

Garnish with parsley before serving.


This great family recipe is thanks to Delish Recipes at https://www.delish.com/cooking/recipe-ideas/a23871458/no-peek-chicken/