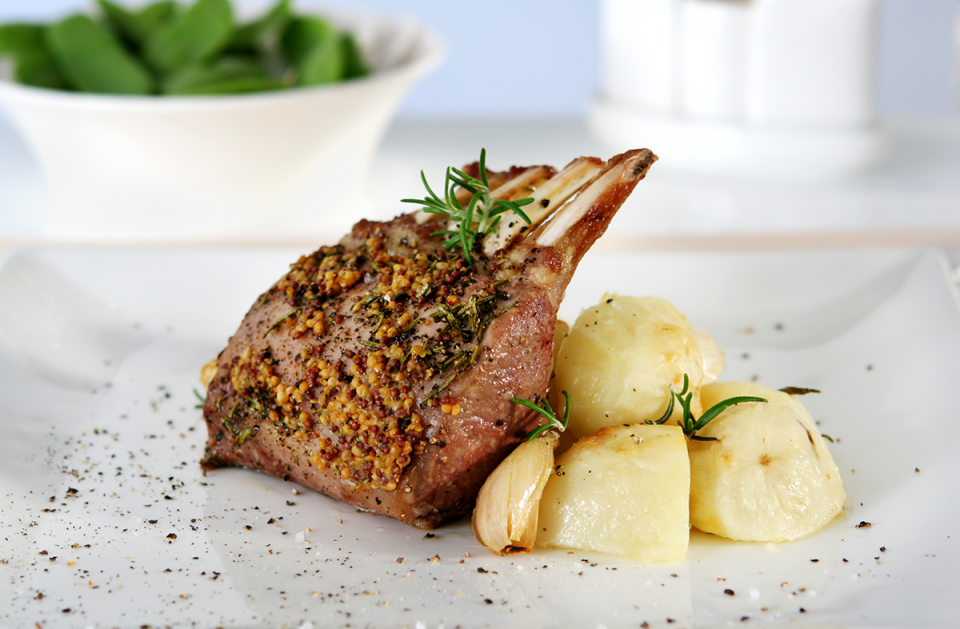 Mustard Crusted Rack of Lamb
Lamb racks are an impressive presentation for the most elegant of meals. This Mustard Crusted Rack of Lamb recipe will result in an gourmet style dinner that will leave your guests wowed.
Prep Time
    •    Prep time: 25 minutes

    •    Cook time: 35 minutes
    •    Yield: Serves 4-6
Ingredients
    •    salt
    •    pepper
    •    1 tbsp Mint ( fresh)
    •    4 tbsps Olive Oil ( divided)
    •    2 rack(s) Lamb ( Frenched)
    •    2 tsps Garlic ( minced fine)
    •    3 tbsps Mustard ( whole grain)
    •    1 cup Seasoned Bread Crumbs
    •    1 tbsp Rosemary ( fresh, minced)
    •    3 tbsps Flat Leaf Parsley ( fresh, chopped)
Method
Season the lamb with salt and pepper. Heat 2 tbsp. of oil in a large skillet over medium heat. Brown lamb racks one at a time, cooking for two minutes per side and flipping only once. Remove rack from heat, and place in a large roasting pan, fat side up.


While browning the lamb, stir together seasoned bread crumbs, parsley, mint, rosemary, garlic, and remaining olive oil. Mix until combined well.


Once all racks are browned, rub the fatty side of each rack with mustard, then spread the herb and bread crumb mixture over the mustard. Press the mixture into the mustard to make sure it sticks to the lamb.


Place the roasting pan into an oven preheated to 400°F and roast for approximately 15-20 minutes until the lamb reaches 130°F for medium rare. Remove from oven and let rest for 5 minutes.



Carve the rack into individual chops (or smaller racks) to serve. Enjoy with roasted potatoes and fresh vegetables and a hearty red wine!


This great family recipe is thanks to Lake Geneva Country Meats Recipes at https://lakegenevacountrymeats.com/recipes/mustard-crusted-rack-of-lamb