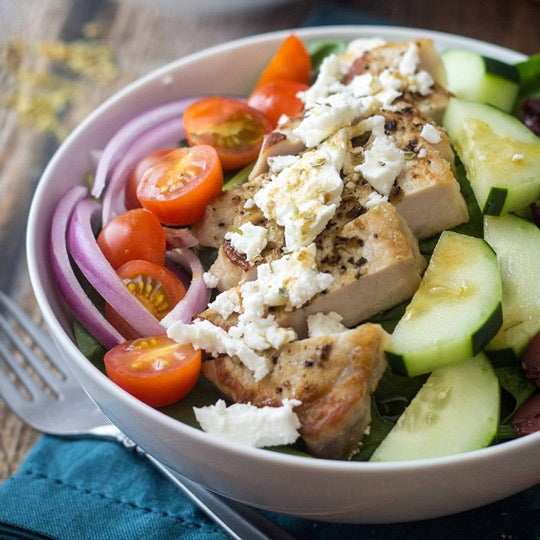 This crispy, light salad is chock-full of hearty veggies and succulent pork, sprinkled with feta cheese and blanketed with a balsamic glaze. With a Mediterranean kick, this salad makes a perfect anytime meal. Frontier's All Purpose Seasoning gives it a zesty, salt-free kick.
Prep Time
    •    Prep time: 5 minutes
    •    Cook time: 50 minutes
    •    Yield: Serves 6

Ingredients
    •    2 tsps frontier organic salt-free all-purpose seasoning 2.5 oz
    •    1/4 cup 1 tsp olive oil, divided
    •    2 tsps balsamic vinegar
    •    1 bag (5 ounces) baby spinach
    •    1/2 large cucumber, thinly sliced and halved
    •    1 cup halved cherry tomatoes
    •    1/2 cup jarred Kalamata olives, pitted and halved
    •    1/2 cup sliced red onion
    •    2 ounces feta cheese, crumbled
    •    1 pound boneless pork chops

Method
Preheat oven to 350 degrees. Spray a large glass baking dish with nonstick cooking spray.


Use 1 teaspoon All-Purpose Seasoning to evenly season both sides of pork.


In a large ovenproof saucepan, heat 1 teaspoon olive oil over medium-high heat. Place seasoned pork in saucepan and cook for about 4 minutes, turning to sear on both sides.


Cover baking dish with aluminum foil and place in oven for about 25 to 30 minutes, or until the internal temperature reads 145 degrees. Remove from oven, and let sit, covered, for 10 minutes. After 10 minutes, slice pork into ½-inch thick slices.


In a small bowl, whisk together 1/4 cup olive oil, balsamic vinegar, and 1 teaspoon All-Purpose Seasoning.



In a large salad bowl, toss together spinach and dressing. Lay cucumbers, tomatoes, olives, onions and pork slices on top of salad, and then sprinkle with feta cheese.


This great family recipe is thanks to Frontier-Coop Recipes at https://www.frontiercoop.com/community/recipe/mediterranean-pork-salad